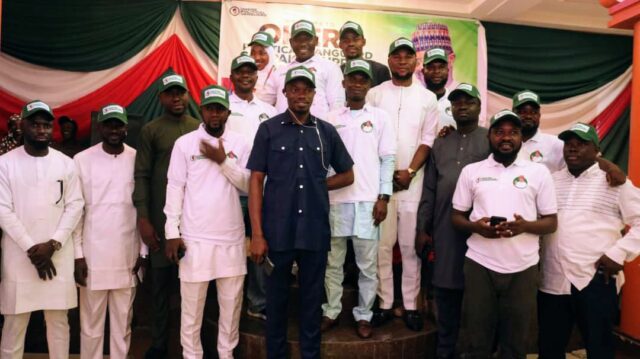 Ahead of the 2023 Kogi Central Senatorial election in Kogi State, the Ohere Political Vanguard Campaign Organisation inaugurated her executive members, local government coordinators and advisers.
The event held today at the Tafari hotel banquet hall in Adavi Local Government Area of the state.
Prof. Solomon Avidime, popularly known as People's Professor was appointed as the chairman, while an APC bigwig, Hajiya Habiba Umar will serve as the vice chairman of the campaign organisation.
Hajia Habiba Ovaioza Salami was inaugurated as the Treasurer, Amb. Aliyu Mahmud as the secretary, and Samari Shehu as the financial secretary.
Others are Hon. A. A. Okene, who is a senior legislative aid to the speaker of Kogi State House of Assembly to head the contact and mobilisation unit of the campaign, former Okehi state constituency aspirant, patriot Mathew James Avabee will act as the Director of Welfare and Logistics, and Amb. Hamza Yakubu, who is a digital media strategist and campaigner will head the media and publicity unit.
Alhaji Ahmed Onsachi (Diet), Hon. Isah Albert Omeiza, Mr. Muhammed Sanni Omadivi (Abacha), Mr. Solace Omolaiye, and Mr. Bin Abdul Ganiyu are coordinators of Okehi, Adavi, Okene, Ogori Magongo and Ajaokuta local respectively.
Others in the campaign team include Engr Ira Habib, Hon. Lawal Amba Ihima, Engr Israel Adeiza, Mr. Jonah Avidime, Hon. Suberu Isah, Hon. Dan Awal, Hon. Okehi Daniel, Mr Francis Makafa, Mr Isah Achuja Yakubu, and Prince Onoku.
Addressing the gathering shortly after the inauguration, the chairman of the campaign organisation, Prof. Solomon Avidime charged his team and all supporters of Engr Abubakar Ohere to expend full commitment to the #Ohere4Senate2023 project, adding that the All Progressives Congress (APC) candidate's track records, experience and sterling qualities makes him the best fit for the job.
About Post Author