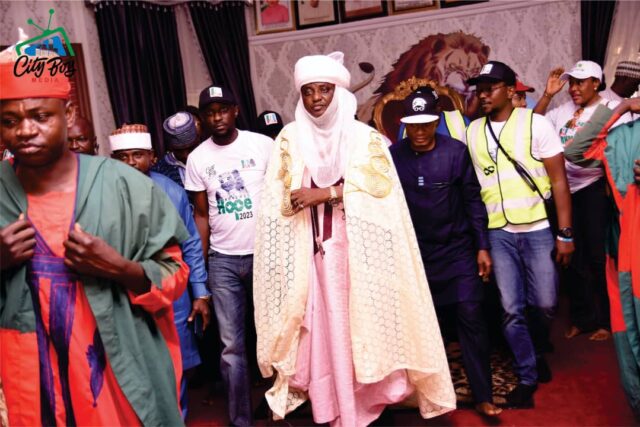 As the presidential elections draws near, and In continuation of the resolve by the leadership of the City Boy Movement and it's teeming members to intensify mobilization, canvass and sensitize Nigerians to vote Asiwaju Bola Ahmed Tinubu for President.
The movement's First stop was at the palace of the Sa'karuyi of Karu Chiefdom, FCT Abuja.
Leader of the delegation and Director of Mobilization and Social Impact Program of the City Boy Movement, Hon Shoga Francis Oluwatosin while expressing gratitude to the Royal Father, for patiently waiting and welcoming his team in warm embrace said, "the City Boy Movement has embarked on continuous Door-2-Door sensitization, free medical outreach, campaigning, canvassing and mobilizing the youths and women to come all out to vote Asiwaju and APC for economic prosperity.
Also, part of City Boy Movement's campaign mechanism is penetrating the traditional district Chiefs, and institutions to urge the people to vote our competent principal Asiwaju Bola Ahmed Tinubu and Sen. Kashim Shettima. In the same vien, Shoga said, "Asiwaju Tinubu's antecedents as Governor of Lagos State speaks for him, stating that thousands of jobs were created during his time, with massive turnaround in infrastructure, improved healthcare delivery, Improved IGR and educational scholarship is a testament to what Nigerians will experience with Tinubu's Presidency
BATMEDICS, the medical team of the City Boy Movement, ably led by Pharm. Aminu Ojeje said, the aim of the community engagement, voters education and Free Medical Outreach program at various locations of Karu, Nyanya, Orozo and Karshi is to tell the masses that Tinubu means well and lays emphasis on quality healthcare delivery.
While describing Asiwaju Ahmed Tinubu as a role model and a man of proven dexterity in leadership and governance.
HRH (Dr) Emmanuel Kyauta Yepwi (JP)
The Sa'karuyi of Karu Chiefdom,
FCT Abuja. In a resounding keynote, commended the City Boy Movement for spreading it's medical outreach and Door-2-Door sensitization to his Chiefdom, emphasizing on recognition of traditional institutions as bedrock of peace, unity and development of Nigeria, thereby urging the City Boy Movement to bring to the attention of Asiwaju Tinubu the needs and yearnings of the people.
HRH emphasized that, by the sterling qualities of the APC Presidential Candidate, Tinubu, Nigerians will experience rapid socioeconomic development and shared prosperity for all.
Moreso, other locations and traditional leaders of Nyanya, Orozo and Karshi visited assured the City Boy Movement of their total corporation and support for Asiwaju Tinubu and Kashim Shettima. Stating that they are the most qualified and competent combination Nigeria needs now. They prayed for divine strength and protection for Tinubu to lead Nigeria to the promised land.
Compiled by Shehu Lashek Yahaya
About Post Author