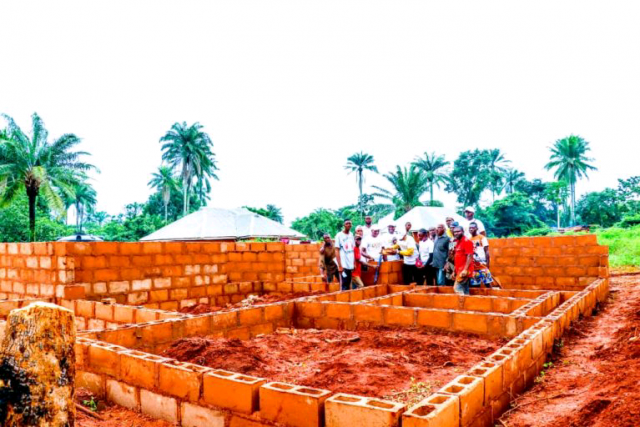 2008, Jos, Plateau State swallowed the life of Mrs Victoria Omabogu, who was brutally murdered in front of her house. A native of Odu Kaka in Dekina Local Government of Kogi State, Chief Edward Onoja explained how Mrs Victoria taught him all his first itinerary duties as Customer Service Officer of Guarantee Trust Bank, Jos.
Death had occurred. His banking teacher had died. All was travelled to Odu Kaka in Dekina LGA were the remains of late Mrs Victoria was sunk to the ground. At the house dedication of his beloved mother in Emonyoku-Ochaja, Ogugu in the year 2020, Edward Onoja, now Kogi State's Deputy Governor, promised to build Mr. Musa Simon, father of Mrs Victoria a befitting home at his village in Odu, in memory of his daughter who groomed him in the banking journey, a path which he described as sharpening him in preparedness for where he is today.
On his birthday, August 9th, 2021 when he turned 47 years, emissaries were dispatched to Odu to lay the foundation of the modest three bedroom apartment which is to be fully furnished on completion by December, 2021. In a happenstance of concurrence, the widowed mother of Kogi's demised hero, Dr Victor Idowu Ahmed who was the first doctor to fall to Lassa fever in 2018, was handed a three bedroom apartment, fully furnished by the Deputy Governor in Kogi Central. Whilst in Kogi West, the Obaro of Kabba along with the emissaries of the Deputy Governor also laid the foundation of another home which was promised the widow of the late Oba of Odolu, Victoria Obayomi which is also to be delivered by December 2021.
According to the Deputy Governor, he believes only God can comfort the family of late Mrs Victoria, however, this modest gesture signs as his appreciation towards her contribution to his growth in life which he can never pay back.
About Post Author