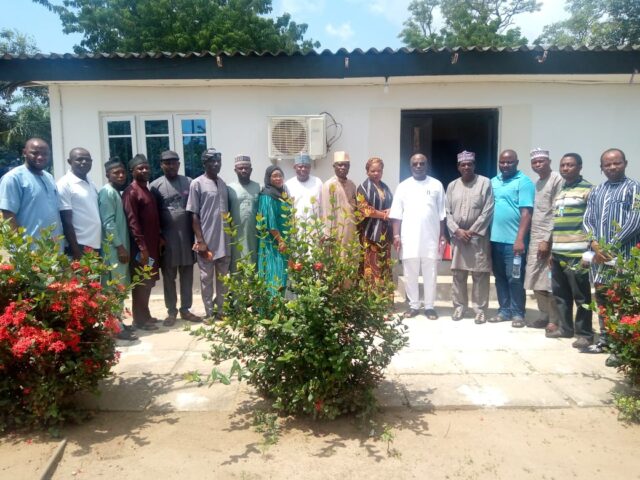 As efforts to host the Ebira National Conference 2022 gather momentum, the land of Ajaokuta in Ajaokuta local government area has emerged the host town for the crucial assembly.
The two days conference which is structured into pre-conference and main conference is billed to hold on 29th 0ctober and 5th November, 2022 respectively.
While the pre-conference holds at the main Auditorium of the Federal College of Education, Okene, the main conference holds at the Conference Hall of the main administrative building of the Ajaokuta Steel Company Limited (ASCOL).
Broadly themed, "Situating Ebira in the Array of National Discourses", the conference pays particular attention to three thematic areas:
The Evading Resuscitation of the Ajaokuta Steel Company Limited;
The Imperatives and Preparation for the Proposed 2023 Population Census and;
The Sustenance of the Relative Peace and Security in Ebira land- 2023 and Beyond.
Tagged, "Ajaokuta 2022", the conference is set to hold under the officiating presence of the following esteemed personalities:
Alh. DIG, Abdulraheem Yusuf (Rtd)- Chairman, main Conference;
Lady Mariam Abedoh – Lady Chairperson, main conference.
Adai Steven Yakubu, Chairman, Ebira Elders Forum- Chairman, Pre-Conference;
Pastor Suleiman Joseph (Manjoe), Coordinator, Ebira Renaissance Group (ERG), Keynote speaker, Pre- Conference.
Dist. Special Guest of Honour:
His Excellency, Alh. Yahaya Adoza Bello, the Executive Governor, Kogi State-;
Dist. Royal Father of the Day:
HRM, Dr. Ado Ibrahim CON, the Ohinoyi Ebira;
Royal Fathers of the Day:
The Six Ohis IN Ebira land;
Keynote Speaker:
Prof. M. Salihu Audu, President, Ebira Senior Academics;
Guest Speakers:
Prof. M. Suleiman Audu, Deputy Vice Chancellor, Federal University, Lokoja, speaking to, Security in Ebiraland- 2023 and beyond;
Chief S. S. Lawal, former Commissioner, NPC, speaking to the Imperatives and Preparation for the 2023 proposed Population Census;
Engr Otu Thomas, speaking to the Evading Resuscitation of the Ajaokuta Steel Company Limited.
Special Guests of Honour:
Senator Yakubu Oseni, KCSD;
Prof. Marietu Tunuche, Vice Chancellor, Kogi State University;
Dr. Umar Hassan, Provost, Federal College of Education, Okene.
Guest of Honour:
Prof. Micheal Ogrima, President, Front for Ebira Solidarity (FES);
Alh. Abdulrazak Leremo, President, De Club 10, Nigeria;
Amb. S. A. Lawal;
Daudu Barnabas Ojia, the Eyize Ebira;
Alh. Yusuf Abubakar Mamman. CBN;
Daudu, Alh. Hamza Usman, the Talba, Ebira.
In order to adequately accommodate the gamut of views and positions from the large spectrum of concerned public members and social sub-divides in Ebira nation for the conference, the secretariat of the Local Organizing Committee (LOC) will, from the 9th of October, 2022, commence the collection of memoranda from individuals, groups and other corporate bodies.
In view of the importance of this national convocation to the socio-economic and political interest of the Ebira nation, all well-meaning Anebira are passionately entreated to offer every support within their means for the success of the project (Ajaokuta 2022).
Signed:
Comrade Ohida Abdulmaliq Haruna,
National Publicity Secretary 1.
About Post Author