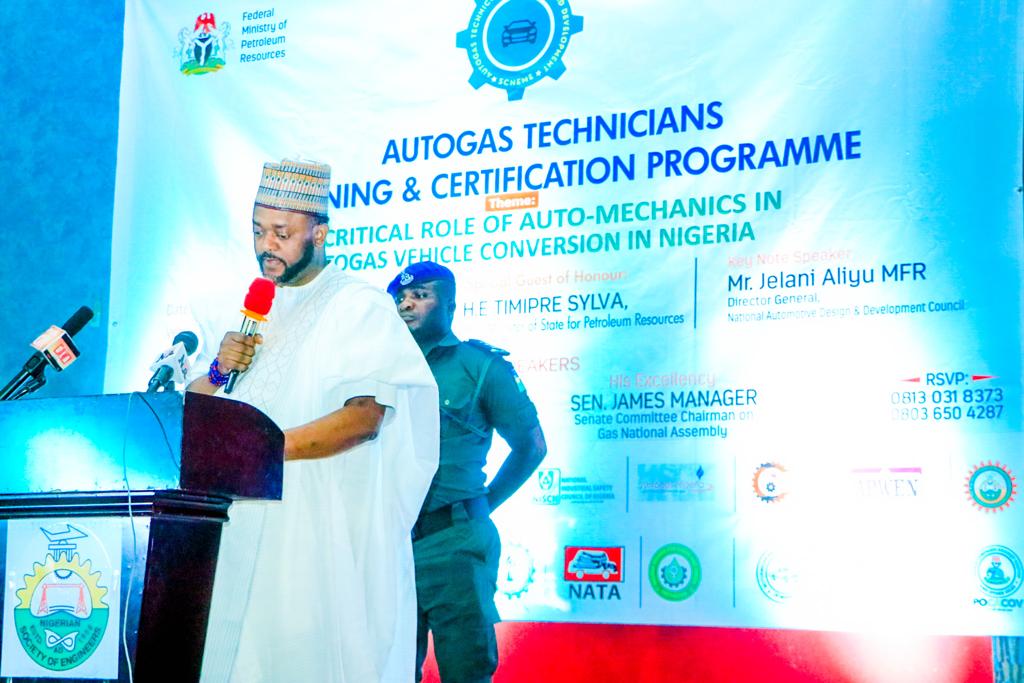 I commend the NNPC, the CBN and the partners for showing commitment to taking this policy forward in a syndicated manner. Much like electric vehicles, autogas conversion and adoption rates by existing vehicle owners can only work if the various milestones on the value chain come on board simultaneously.
Beyond the financial benefits, people will be easier to persuade into converting their vehicles to use LPG instead of diesel or PMS if loans to finance conversion, facilities to refill their vehicles on the road and the expertise to convert and maintain their converted vehicles are available in enough places to make it attractive. That is why I am glad that Nigeria is adopting such an integrated approach to the implementation of the Autogas Policy.
More than anything else, I would like to remind us today that autogas conversion is more about combating climate change than any of the many commercial and allied benefits Nigerian society is poised to derive from it. This is the main reason I am so firmly in support of it. It is one way we can prove accountable to our future as a nation and as a species on the only planet we can naturally exist.
Unlike other fossil fuels like diesel, pms, coal or kerosene, LPG is classified as 'clean'. Its climate change footprint is practically zero, in fact it can be considered positively good for the environment when the alternative is widespread use of the others like we currently do with our vehicles in Nigeria.
When fossil fuels are burned, they release large amounts of carbon dioxide, a greenhouse gas, into the air. Greenhouse gases trap heat in our atmosphere, causing global warming. Credible sources have confirmed that LPG produces 33% less CO2 emissions than petrol and 45% less CO2 than diesel. LPG vehicles produce up to 82% less Nitrogen Oxide pollutants than petrol and 99% less than diesel. They also produce 63% less Carbon Monoxide as well as 40% less Hydrocarbons overall than petrol and 70% less than diesel. LPG is responsible for 50% less particulates than petrol and 98% less than diesel. In other words, being made up of propane and butane, LPG has a chemical composition that enables it to burn without producing as much contaminants as PMS or diesel, eg sulfur and CO2, which cause health-damaging air pollution and worsen climate change.
Greta Thunberg (pronounced 'tune bag') the 17 year old climate change activist from Sweden has highlighted the fearful urgency of climate change and the debt we owe to our future generations an. She insists we should be afraid of failing them. In her 2019 speech at the World Economic Forum at Davos, Switzerland, she made this very clear, and I quote:
'Adults keep saying, "We owe it to young people to give them hope." But I don't want your hope. I don't want you to be hopeful. I want you to panic. I want you to feel the fear I feel every day, and then I want you to act. I want you to act as you would in a crisis. I want you to act as if our house is on fire. Because it is.'
The way I see it, we need to do this – for ourselves, yes, but mainly for our children and for posterity, so that they too will have a world that is habitable.
Nigeria may not be in the forefront of the fight against climate change, but whether we like it or not, we are in the fight. In Lokoja and across many of our local government areas, worsening climate change is bringing the fight to our people in form of flooding and gully erosion, but also death, disease, internal displacement and pressure on our meagre resources which have to be increasingly repurposed every year to mitigate challenges from worsening climate change. The fight has been brought to us and we have to fight it.
Therefore, I thank President Muhammadu Buhari for his foresight in deploying the Autogas Policy since the year 2020. Once again I appreciate the Ministry of Petroleum Resources, the NNPC, the CBN and all the partners for their concerted efforts to implement it. Let us aim to convert at least 1m cars over the next two years. It may not be the total solution to climate change in Nigeria, but it is a start, and a very good one at that.
I thank you.
YAHAYA BELLO
Governor of Kogi State.
About Post Author