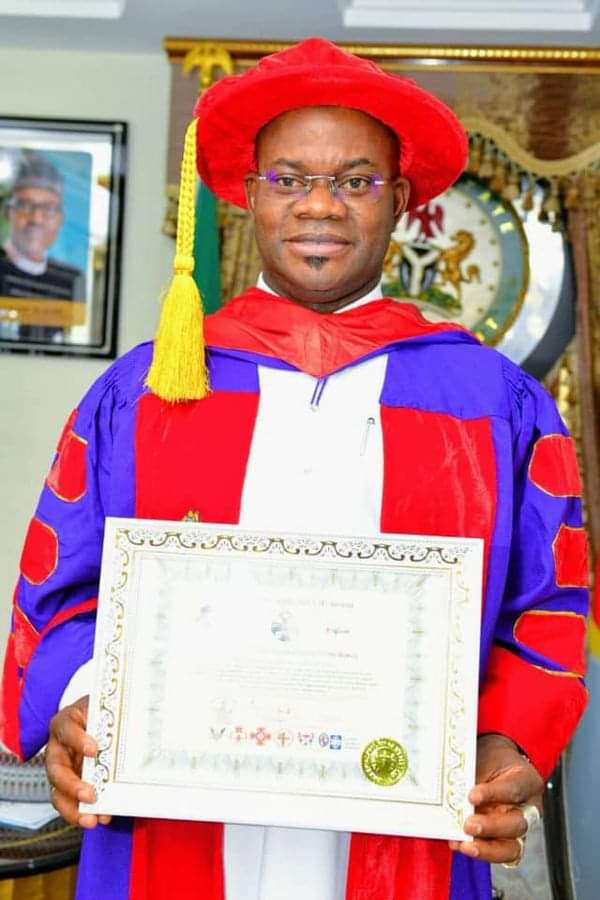 Governor Yahaya Bello of Kogi State has expressed his appreciation to the Thomas-a-Becket University for honoring him with the 'Professor of Human Resources Management' in recognition of his leadership role in uniting the people and ensuring security in his state.
The Governor who is first ever Nigerian to have received such an honor from the institution, despite being a Muslim, expressed his commitment to playing his role in ensuring good governance, Inclusiveness and integration in whatever capacity.
The statement read; "I'm honoured to receive this Professorate from the St. Thomas-a-Becket University, a tertiary theological institution of the Lutheran and Wesleyan Churches. Likewise the Fellowship of the 235-year old Wesleyan Synod.
"We must be doing something right in the area of governance, especially inclusivity, cooperation and integration for such dignified and ancient Churches to break with tradition and confer their highest honours on a Muslim northerner in Nigeria.
"I do not take it for granted and I convey my deepest gratitude, while promising to continue working for security, unity, peace and progress of all Nigeria.
"To God be the Glory!"
Recall that Governor Yahaya Bello has continued to receive outstanding accolades from within and outside the country for being a leading light in the unification of the country and for providing quality leadership and security for the people especially in a time when the entire nation faces unbridled insecurity.
About Post Author