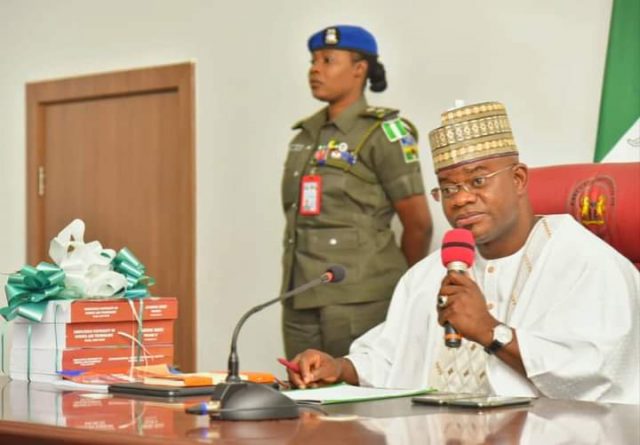 Governor Bello has directed the Ministry of Finance, Budget and Economic planning as well as the Ministry of Education to ensure that the budget allocation for education was increased to 20 percent of the total budgetary allocation from 2021 fiscal year and beyond.
The Governor also promised that his administration would take the state's education sector to another level through the diverse reforms and infrastructural boost the sector would witness.
The Governor made this known on Friday while receiving the report presented by the Ad-Hoc Committee on The Establishment Of Confluence University of Science and Technology, Osara (Custech) at the Government House, Lokoja.
Governor Bello thanked the erudite committee members for their dedication and sacrifice noting that the state was already taking giant steps towards the actualization of Custech.
The Governor noted that all necessary action were being taken by the state government to facilitate speedy commencement of university activities, including the funding of the already opened account of the University from the state's purse.
Governor Bello reiterated the commitment of his administration towards ensuring that the education sector was properly positioned, affirming that his government would do more for the people of the state.
Chairman of the Committee and Former Vice Chancellor, Federal University of Technology, Minna Prof. Muhammed Salihu Audu in his remarks stated that the committee was set up on the 23rd of January and were giving the mandate to advise the State Government on how to go about actualizing the establishment of Custech, Osara.
He noted that Kogi State was blessed with numerous geological materials hence the need to utilize such abundance by creating a Science and Technology university, as it was also imperative for the state in securing the future of the youths.
Prof. Muhammed asserted that the justification for the location of Custech in Osara, Kogi State Central was due to the fact that other senatorial regions, Kogi East and West had already established Universities which are the Federal University, Lokoja and Prince Abubakar Audu, State University in Anyingba.
The State Commissioner for Education, Hon. Wemi Jones in his opening remarks thanked the Committee for the pace at which they have worked to deliver the impressive document which they presented to the Governor.
About Post Author