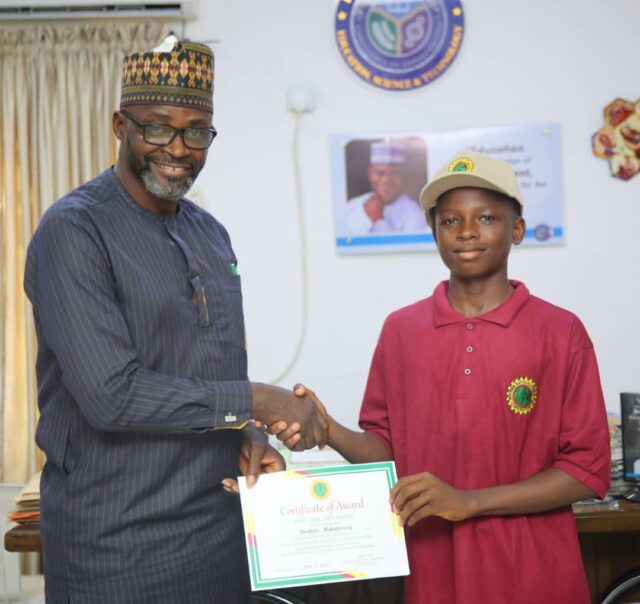 Kogi State has emerged the winner of the Zonal finals of the 2022 Nigeria National Petroleum Corporation (NNPC) National Science Quiz Competition of Secondary Schools in the North Central zone.
The Secondary School Students from Kogi, Kwara, Benue, Nasarawa, Niger, Plateau and the FCT Abuja, participated in the quiz competition, held on Monday at Baptist High School, Lokoja.
Ibrahim Abdultareeq, a 14 year old, SSS 2 student of Champion Group of Schools, Otite, Okehi Local Government Area, represented Kogi State at the competition.
Kogi emerged first position with 65 points, FCT came second with 60 points, while Plateau came third with 55 points.
The Kogi Commissioner for Education, Science and Technology, Hon. Wemi Jones, FCIB, while receiving the student in his office shortly after the competition, expressed his excitement on the outcome of the exercise.
"I am super excited because when you make effort and is yielding results, the only choice you have is to be happy, excited and grateful to God," he said.
The commissioner stressed that he was very grateful that all the efforts that His Excellency, Governor Yahaya Bello, was putting into education had been yielding great positve results,
He commended the governor for given topmost priority to education sector, saying he had duly promoted and elevated the status of education in the state.
The commissioner noted that a Kogi-born student schooling in Ibadan, Oyo State, had also recently emerged as the overall winner as the best Essay writer for Secondary Schools in Nigeria.
According to him, the essay competition was part of activities organised for the launching of the Human Capital Development Strategy, inaugurated recently in Abuja by the Vice President, Prof. Yemi Osinbajo.
"So, there is something peculiar to the people of Kogi State. I think God has bestowed on us the high level of intelligence and intellect.
"I am super excited that God is lifting Kogi State to a greater height as far as education is concerned," he said
In his remarks, the School Principal, Mr Audu Adeiza, said the school was very proud of the student for bringing new glory to the school.
Adeiza attributed the success to the product of grace and hard work, saying the school had tried severally, describing the boy as very hardworking and diligent.
The student, Ibrahim Abdultareeq, expressed his joy over the success, saying his years of hardwork had yielded great result.
Abdultareeq thanked his teachers and principal who had contributed immensely to his successful outing in the competition, and promised to make the State and the zone proud at the final competition in Abuja.
End
About Post Author