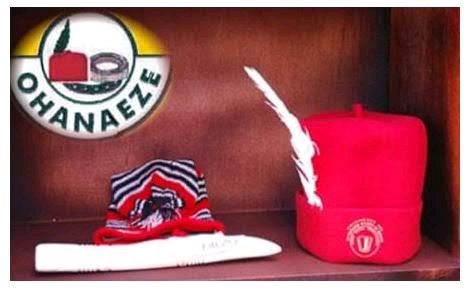 Reacting to a publication making rounds in the media on a supposed Nigeria's presidency rotation, the Pan-African Youth Union Commissioner for Youth Political Participation, Amb. Oladele John Nihi has called on the Igbo socio-cultural organisation, Ohanaeze Ndigbo to jettison mundane and unproductive political arrangements which does not translate into the overall development of the nation.
Nihi mede this call in Abuja earlier today while responding to questions from newsmen.
He said Nigeria is currently experiencing a thick wave of youth reawakening in terms of governance and active involvement in politics, saying that as unity remains the required yeast to sustaining and boosting the country's spirit of oneness, Nigeria should by now be over the issue of rotation; as it has proven non-effective over time to address the needs of ordinary Nigerians.
Amb. Nihi emphatically demands that the Igbo group should state categorically what benefits the region has recorded since zoning has been a dogma. "Is the South and particularly the Southeast now stable and developed as desired? – Should regions have to continually wait for eight years before they could feel the touch of leadership?"
He added that Nigerian youths will be glad to know of the appropriate constitutional backings that supports zoning.
The Youth Commissioner therefore encourages the well-known social cultural group, to keep aside issues of zoning and play the "I am a Nigerian" card; as every Nigeria should be accord equal chance of approaching the pool whenever the need be without any territorial restrictions and ethic hurdles.
In closing, Amb. Nihi affirms that Governor Yahaya Bello was truly still studying accountancy in the prestigious Ahmadu Bello University Zaria, when the elders who made a decision capable of affecting generations unborn did so without thinking of its repercussions, and a decision that was made out of cloudy intentions cannot be a yardstick for the current generation to work with. The said decision is one of the major catalyst of ethic reintegration in the country, and cannot stand.
Quoting the National Publicity Secretary of Ohanaeze Indigo, Chief Alex Ogbonnia who said "There is no doubt that Bello has a date with destiny going by a smooth political ascendancy that life has presented to him."; The Youth Commissioner appeals to the Igbo socio-cultural organisation, Ohanaeze Ndigbo, to join hands with Nigerians and millions of Nigerian youths appealing to Governor Yahaya Bello to run for presidency, just as the South-South Youth Leaders Forum (SSYLF) has declared support for Governor Yahaya Bello after a three-day coastal rally in honour of the Kogi State Governor in the Niger Delta, and engraved him as the symbol of a new Nigeria. "Join us and let us play the "I am a Nigerian" card as the time to be one is now"
By Kelvin Oluseyi Eleta
About Post Author