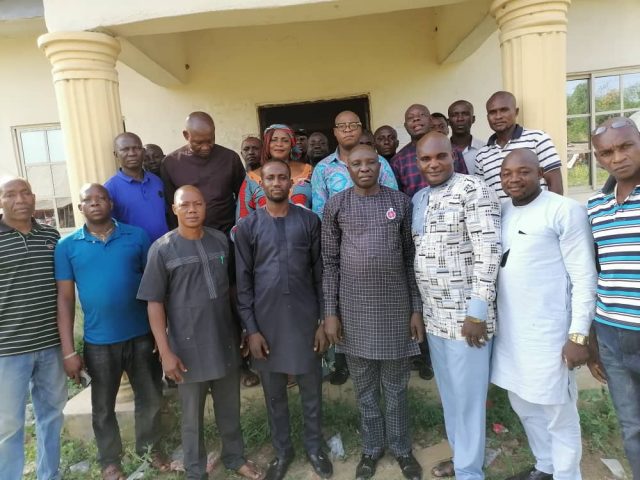 The chairman of Ibaji Local Government Area, Hon Williams Iko – Ojo has inaugurated the newly formed executive Council in the area by swearing in newly appointed Supervisory Councillors.
The inauguration took place at the Local Government Headquarter, Onyedega.
Addressing the members shortly after their oath taking, Hon Iko-ojo charged them to show commitment to responsibilities assigned in order to justify the confidence reposed in them.
He said they were selected to serve in line with the New Direction blueprint of Governor Yahaya Bello, which focused on unity, development and security.
The Chairman added that his administration would focus on bringing meaningful development to Ibaji Local Government through partnership and consultation with relevant stakeholders in the area and called on the council members to key into his all-inclusive government and work selflessly for the people.
The inaugurated Supervisors are Hon Monday Onate (Supervisor for works, Housing and Land); Hon Sabastine Egwuje (Supervisor for Budget and Planning); Hon James Egwuma (Supervisor for General Duties); Hon Agustine Edoja (Supervisor for Education and Social Services) and Hon David Adutu (Supervisor for Agriculture and Natural Resources); and Hon Danjuma Yakubu, (Supervisor for Health).
Speaking on behalf of the supervisory coumcillors, the Supervisor for Education and Social Services, Hon Augustin Edoja, thanked the Chairman for finding them worthy to serve and pledged the commitment of the coincil members to the cause of development in Ibaji.
Also speaking, Secretary to Ibaji Local Government, Hon Ben Boyi, urged the Supervisory Councillors to be focused and loyal in the discharge of their duties.
Highlight of the event was the administration of the Oath of Allegiance and the Oath of Office.
About Post Author