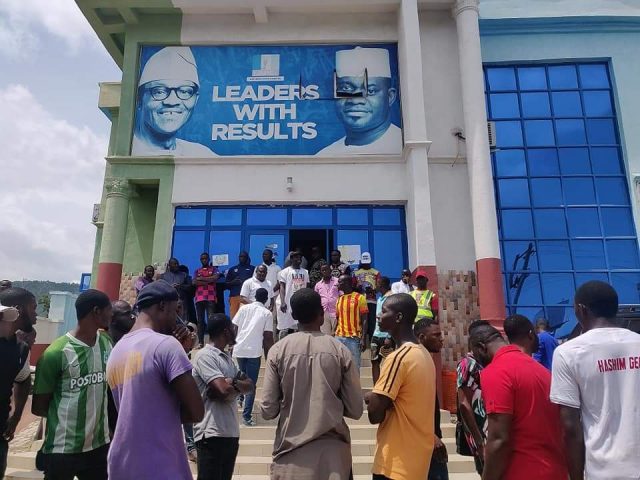 Aspirants under the platform of the ruling All Progressives Congress (APC) in Kogi State have stepped up their preparations for December's Local Government Elections by picking their intent and nomination forms.
Insidestory crew was at the party's secretariat in Lokoja the state capital, where the aspirants trooped in to pick their forms.
Though they were all smiles, some of them didn't speak to the press, but an aspirant from Kogi Local Government Area who is the immediate past SSA to the state Governor on Security for the area, Hon Abdulkarim Isa Ecomog expressed satisfaction when asked about the process so far.
He described the decision of the stakeholders, especially the Governor, Alhaji Yahaya Bello, for a peaceful process as commendable.
Hon Ecomog, who was particularly full of gratitude to the Governor for his choice of true democratisation, was upbeat that the opposition had no need to pose any resistance because his movement is a state – wide phenomenon beyond his LGA.
He said the achievements of the Governor in all the Local Government Areas of the state does not give any party other than APC a chance.
Other candidates who were also seen at the secretariat, were all smiles with their supporters and other stakeholders turning the event into a carnival – like atmosphere with singing, dancing and chanting.
The Polls in December is first in Kogi State for over seven years, and it is first to be held by this administration in fulfillment of one of the campaign promises of Governor Bello during his electioneering process for his second and final term of office.
When elected, the Chairmen and councillors would become substantive heads of their Local Government Areas, giving way to the appointmentive positions the Governor had used to fill the void since 2016.
About Post Author