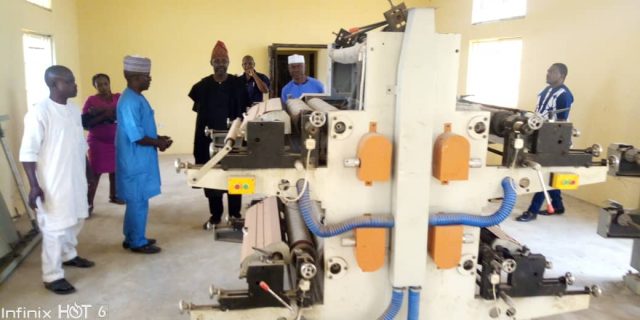 Kogi State Government has promised to give necessary support to ensure that the Technology Incubation Centre (TIC) in Lokoja takes off in earnest to create employment opportunity for its citizens and boost its economy.
The Commissioner for Education Science and Technology in the state, Hon. Wemi Jones, gave the assurance when he assessed the facilities at the Centre, located along Hassan Usman Kastina road, Zone 8, Lokoja. Speaking to newsmen after the inspectiom, Jones commended the Federal Government for its decision to site the multipurpose centre in Kogi, to create employment, boost economy and promote entrepreneurial skills for the people of the state.
He promised the total support of the government to the centre for immediate takeoff, while describing the structure and equipment on ground as very massive.
The commissioner further assured that the State Government would ensure that the centre is promptly connected to the national grid so as to commence operation as soon as possible. "By the grace of God, we will work together, we will play a very open door policy; feel free to come with ideas on how we can grow the centre to the benefit of our people and move Kogi state forward", Jones said. Earlier, Mr Mustapha Abdulsalam, the Centre Manager, TIC Lokoja, National Board For Technology Incubation, Federal Ministry of Science and Technology, commended the commissioner for the visit, describing it as an indication of the Gov. Yahaya Bello's keen interest in the centre.
According to Abdulsalam, the board has the mandate to reduce poverty using technology incubation as a tool to engaging younger ones in entrepreneurial skills in order to be self reliant and be employers of labour. He appealed to the State Government to intervene in ensuring that the centre was promptly connected to the national grid as enshrined in the existing MoU between the Federal and State Government.
The commissioner also visited some agencies under the Ministry, such as Agency for Adult and Non-Formal Education (AANFE), and the State Science, Technical Education and Teaching Service Commission (STETSCOM). The Commissioner advised the workers to be more productive, punctual to work and shun lateness and absenteeism.
About Post Author