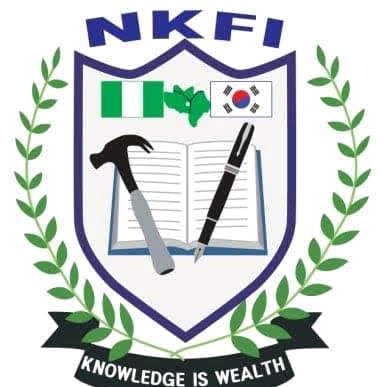 NIGERIA-KOREA INSTITUTE OF VOCATIONAL AND ADVANCED (NKFI), KOGI STATE.
PMB 1021, LOKOJA, KOGI STATE, NIGERIA.
(OFFICE OF THE REGISTRAR)
EXTERNAL AND INTERNAL ADVERTISEMENT
APPLICATION FOR ADMISSION INTO 1 YEAR NATIONAL VOCATION CERTIFICATE (NVC) – REGULAR , 2YEARS NATIONAL INNOVATION DIPLOMA (NID) – REGULAR AND 6 MONTHS SHORT TERM PROGRAMM FOR THE 2022/2023 ACADEMIC SESSION
Application forms for admission into the Nigeria-Korea Friendship Institute of Vocational and Advanced Technology (NKFI)'s regular Programmes for the 2022/2023 Academic Session are now on sale. The Institute offers the following courses:-
National Innovation Diploma (NID) Electrical Electronic Technology -2Years
National Innovation Diploma (NID) Welding and a Fabrication – 2 Years
National Innovation Diploma (NID) Networking and System Security – 2 Years
National Innovation Diploma (NID) Computer Software Engineering – 2 Years
National Vocation Certificate (NVC) Automotive Mechatronics – 1 Year.
6 MONTHS PROGRAMMS :
Electrical Machine Practice and Construction.
Electrical Installation and Repairs.
Sequence and Programming Logic Control Practice.
Arc Welding II
Special Welding II
Plumbing II
Web Development Programming
Computer Hardware and Networking .
Business Applications
Automotive Electrical / Electronics/ Chasis Diagnosis .
ENTRY REQUIREMENTS
I. 100 and above JAMB score for NID Courses, with 5 O'Level Credits in Science Subjects including Mathematics and English.
METHOD OF APPLICATION
Qualified candidates are advised to pay a none refundable fee of N5,000 naira only to the Institutions account number : NKFI 1019587052 (UBA) bank and come with the bank teller to pick the form in the Institute.
Note: Registration duration is 6weeks from the day of this advertisement 15th of September 2022.
All Applicants are to submit hardcopies of their Credentials at the Institute's Admission office on or before the Screening date.
Signed:
Come to NKFI today and brighten your chances in life. NKFI will increases your employment opportunity
Our students are scattered all over multinational such as LG, KIA, SAMSUNG, NNPC etc
Mathew Alhassan .
Registrar
About Post Author