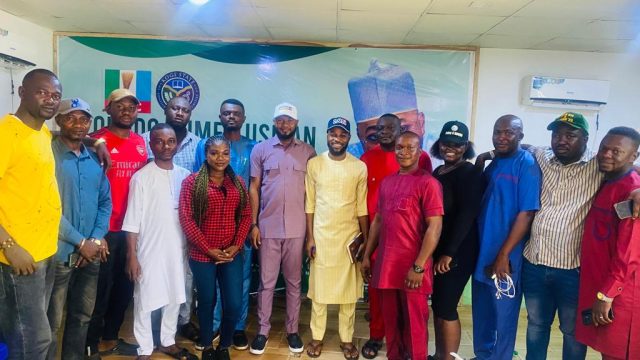 …Sets tone of campaign engagement for the remaining 2 months.
Today, Monday 25th, the Students' Directorate of the Kogi APC Campaign Council convened its inaugural meeting at the OAU Youth Mobilization Centre, Phase 1 Lokoja.
This gathering set the stage for a rigorous campaign engagement that will span the remaining two months leading up to the off-season gubernatorial election in Kogi scheduled for November.
The meeting serve as an essential platform for fostering camaraderie among its members, unveiling meticulously crafted strategies focused on issue-based campaigning, and outlining a series of dynamic programs diligently tailored to resonate with students and educational institutions at all tiers.
Addressing members of the team, Amb Oladele Nihi, the Director of the Students Directorate, left no room for complacency as he implored members to bring to the fore only their best foot.
His clarion call emphasized the paramount goal of securing the triumphant emergence of Usman Ododo, the candidate of the APC Party, in the forthcoming Kogi gubernatorial election.
Nihi sternly warned against any hint of laxity, insisting that it would find no quarter in the Directorate's pursuit of victory.
Further underscoring his commitment to the cause, Amb Oladele Nihi pledged unwavering support to every member of the team, assuring a seamless and productive working relationship.
To ensure the optimal performance and efficiency of the directorate, the appointment of a Deputy Director was announced, along with the establishment of various sub-committees.
Members chosen to helm these sub-committees include:
Babangida, Deputy Director
Saidat, Head of Contact and Mobilization Central
Eniola Olayemi, Head of Contact and Mobilization West
Suleiman Mohammed, Head of Contact and Mobilization East
Ele-ojo Blessing, Head of Media and Publicity
Noah Agada, Head of Programmes and others
Umar Bashiru Camp Master, Head Student Stakeholders Relation
Other members of the Committee are also inculcated into various committee Above.
This landmark gathering heralds the onset of an electrifying campaign season, with the Students Directorate of the Kogi APC Campaign Council primed to play a pivotal role in ensuring the Party's Candidate, Usman Ododo, emerges victorious after all said and done.
About Post Author