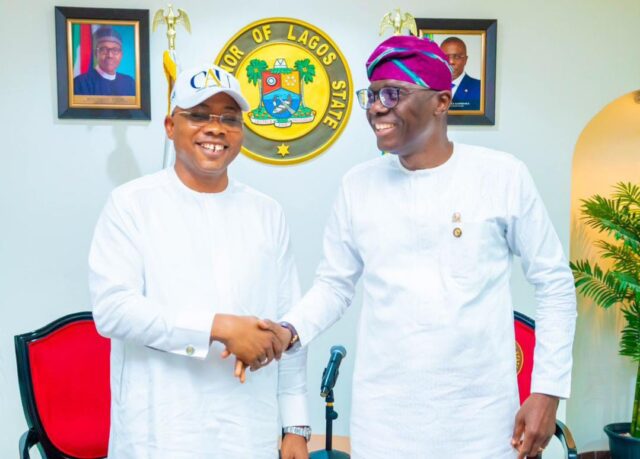 The candidate of the All Progressives Congress (APC) for the Kogi State Governorship election, Alhaji Ahmed Usman Ododo, has continued to commit more energy towards ensuring a stress-free electioneering process towards the November poll by reaching out to party stakeholders and traditional institutions within and outside the state before the official commencement of campaign activities.
In his new rounds of consultations, Alhaji Ododo visited the Governor of Lagos State, Babajide Sanwo-Olu, and His Royal Highness, Siyaka Yusufu Awe, Ohinoyi of Ebira, in Lagos state at their separate residences on Sunday, May 21, 2023.
Alhaji Ododo, who led his strategic team to the Centre of Excellence, congratulated Governor Babajide Sanwo-Olu for coming out victorious in the last general elections, adding that his second term emergence is a testament to his enormous infrastructural work and development strides, placing Lagos state as one of the fastest-growing states in Africa.
Alhaji Ododo also promised to consolidate on the gains and achievements of Governor Yahaya Bello, whom he described as a detribalised leader that has distinguished himself in the annals of governance in Kogi State by breaking ethnic and religious jinx that have long bedevilled the state.
Governor Sanwo-Olu warmly received and acknowledged Hon. Ododo's visit as he reassured him of the party's readiness and commitment in ensuring that the APC emerges victorious in the November poll.
The meeting also witnessed a cross-fertilization of ideas, pleasantries, and applause for the New Direction Government of Governor Yahaya Bello in the last seven (7) years.
In the same vein, the Kogi APC Guber candidate visited the Palace of Ohinoyi of Ebira in Lagos, His Royal Highness Siyaka Yusufu Awe in Marina, district heads of Agege, Oshodi, as well as other notable dignitaries who are indigenes of Kogi State.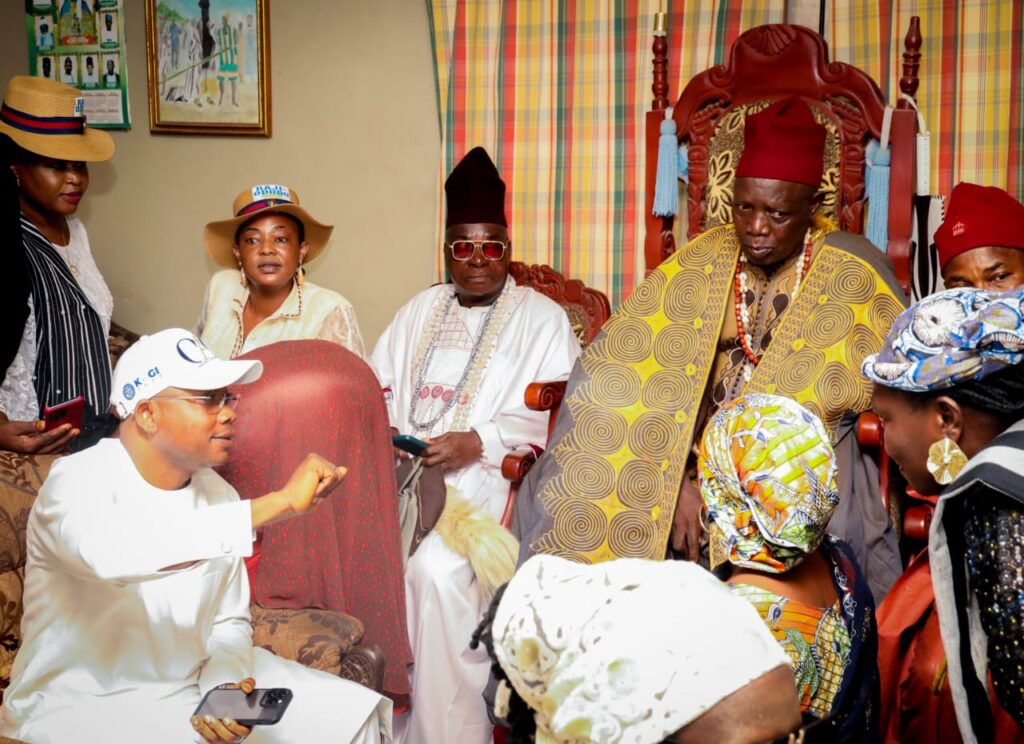 His Royal Highness, Alhaji Awe, appreciated the presence of Alhaji Ododo for finding him worthy despite the distance barrier, assuring him of their support, mobilization, prayers, and commitment of all Ebiras in Lagos State in installing him as the next Executive Governor of Kogi State.
It will be recalled that Alhaji Ahmed Usman Ododo emerged as the Kogi State APC Governorship candidate through a direct primary election on April 14 and was ratified through a special Congress of the party on April 15, 2023.
Alhaji Ododo had in his entourage: Kogi State APC State Chairman, Hon. Abdullahi Bello; Hon. Deedat Ozigi; Hon. Bashir Gegu; Hon. Kingsley Fanwo; Hon. Jubril Momoh; Mukadam Asiru Idris; Prince Shuaibu Abubakar Audu; Prince Bashir Abubakar Audu; Alh. Usman Musa; Dr. Salisu Ogbo Usman, among others.
About Post Author