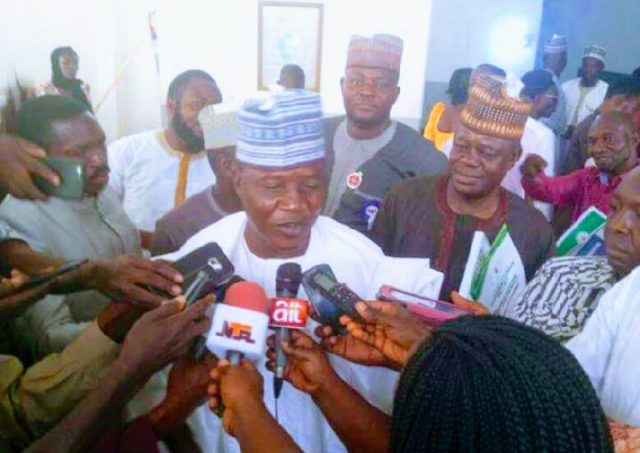 By A. M. Nasiru
The member representing Ankpa, Omala and Olamaboro Federal Constituency at the House of Representatives, Hon. Abdullahi Ibrahim Ali, Halims, has assured the good people of his Federal Constituency of a better and more promising days ahead as he marks his one year in office.
In a statement issued on Thursday, the honorable member thanked the people of his Federal Constituency for the opportunity given him to serve, assuring them of more dividends of democracy as the 2020 fiscal budget takes effect.
Among other things, the summary of achievements recorded within his first year in office are as follows: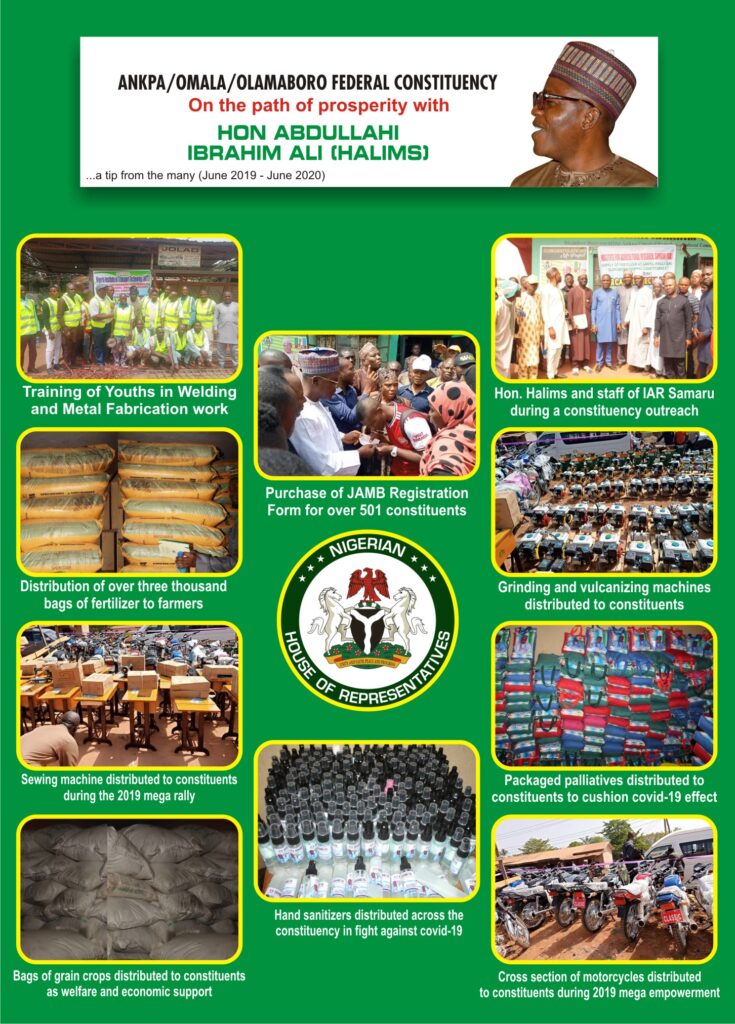 BILLS AND MOTIONS
An Urgent Need for FG to Rehabilitate Ajokuta – Itobe Road of Kogi State
An Urgent Need to Address the Ecological Flood Disaster Afflicting/Devastating the People and Land in Ankpa/Omala/Olamaboro Federal Constituency of Kogi State.
An Urgent Need for Policemen on Highway Patrol to Compulsorily Put on Full Uniforms and Properly Number their Patrol Vehicles for the Purpose of Proper Identification.
Urgent need for FG to establish farm settlement centres in Ikanekpo, Okenyi, Imane-Agaliga and Bagana to all in Ankpa Federal Constituency.
---
Nigerian Constitution Studies (Inclusion in Schools Curriculum) Bill, 2019 (HB. 237)
Security and Intelligence (Compulsory Inclusion in Secondary Schools Syllabus) Bill, 2019 (HB. 238)
National Youth Service Corps Act (Amendment) Bill, 2019 (HB. 239)
National Council for Elderly Persons (Establishment) Bill, 2019 (HB. 240).
PROJECTS SECURED FOR THE FEDERAL CONSTITUENCY UNDER THE 2020 FISCAL YEAR
Construction and Rehabilitation of Roads in Ankpa Federal Constituency.
Construction of Blocks of Classrooms with furniture across Ankpa Federal Constituency.
Construction of Solar powered Boreholes across Ankpa Federal Constituency.
Citing of ICT centre with capacity for Computer Based Tests and other Examinations in Ankpa Federal Constituency.
Erosion and Flood control works in Ankpa Federal Constituency.
Empowerment PROGRAMS
•Over one thousand Constituents were equipped with different artisan materials consisting of;
-Tricycles(Keke)
-Motocycles
-Sewing Machines
-Grinding Machines
-Vulcanizing Machines
-etc.
EDUCATIONAL DEVELOPMENT
Reconstruction of the administrative block of the Young Muslim Congress Secondary School, Ankpa worth over a million Naira.
Free enrolllment of Five hundred and one students for JAMB 2020 registration.
Payment of WAEC/NECO fees for indigent students of Ankpa Federal Constituency.
HEALTH CARE AND AGRICULTURE
Distribution of over three thousand bags of NPK/Urea Fertilizers across Ankpa Federal Constituency.
Provision of fund for furnitures/equipment worth over five hundred thousand for the take off of Bank of Agriculture at Okpo.
Distribution of about four thousand five hundred hand sanitizers, over one thousand bags of rice and other palliatives against COVID-19 pandemic.
EMPLOYMENT
Recommendation of over four hundred constituents for employment in Federal Ministries, Departments And Parastatals.
Facilitation of employment for about sixty seven constituents in MDAs including Ajaokuta Steel Company, Federal Polytechnic Idah, Federal University Lokoja, NASRDA, Nigeria Correctional Service, Nigeria Police Force, et al.
A Pact with the National Directorate of Employment and National Productivity Centre for Absorbtion of Ankpa Federal Constituency Youths
WELFARE/DONATIONS
Donation of vehicles to different associations including Nigeria Timber Workers Association, Hausawa Community and others across Ankpa Federal Constituency.
Cash Contribution to the construction of the Adanawo District Headquarters Building at Emanyi.
Several Distribution of Food Items to Constituents During Festivities
Special outreach to Constituents During Weddings, burials and trying times.
Support to the renovation of worship centres by different faith adherents.
Furthermore, Hon Abdullahi Ibrahim Ali regretted the outbreak of the covid-19 pandemic which did not only affects the nation's economy but disrupted a lot of programs intended to better the well being of the people of Ankpa Federal Constituency.
He however has given assurance of immediate flag off of physical infrastructures as captured in the revised 2020 appropriation act by the National Assembly.
Finally, Hon Abdullahi Ibrahim Ali, Halims, thanked the people of Ankpa Federal Constituency for their unflinching support since he took oath of office, vowing to remain resolute in doing more for the greater good of the greater majority.
About Post Author