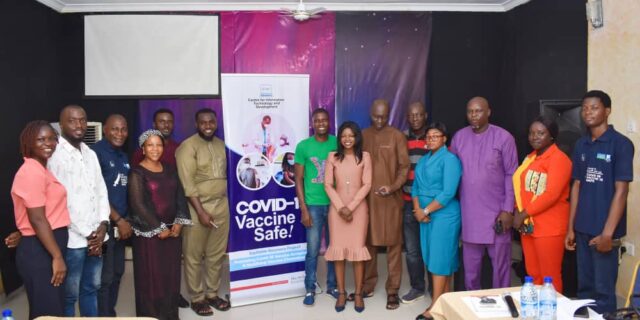 Continuous public awareness on COVID-19 vaccination, especially in rural areas, is essential for addressing vaccine equity gaps and sustaining the successes achieved so far in vaccine uptake in Kogi state.
Stakeholders made this submission in Lokoja on Thursday during a roundtable for vaccine champions which comprises the vaccine Field Mobilizer, Social Media Influencer and the Media partners on COVID-19 vaccine uptake, organized by the Center for Information Technology and Development (CITAD).
In her welcome address, the CITAD Project Coordinator in Kogi state, Yemi Balogun, said the roundtable was to carry out an impact assessment of the COVID-19 vaccine uptake in the state, which she said was a critical aspect of the Equitable Recovery Campaign Project.
Balogun narrated the complex challenges posed by the vaccine project in Kogi state and how she as Project Coordinator, along with various stakeholders strategized to ensure the successful distribution of the COVID-19 vaccine.
"Despite the numerous challenges, our efforts have been fruitful so far. Our efforts have resulted in more people getting vaccinated, hence, increasing the statistics of those fully vaccinated and now we can see a reduction in infections and mortality rate", she added
The Project Coordinator appreciated CITAD and Mc Arthur Foundation for their support which made the project a reality. She also commended the collaborations from various stakeholders since the beginning of the project in 2021, which she said has yielded positively in terms of response to vaccine uptake, stressing that experts have maintained that vaccination remains the most effective strategy to combat the COVID-19 virus.
Participants at the event shared their experiences, made recommendations and commitments towards ensuring that the advocacy on COVID-19 vaccine uptake is sustained across the 21 Local Government of Kogi State.
About Post Author