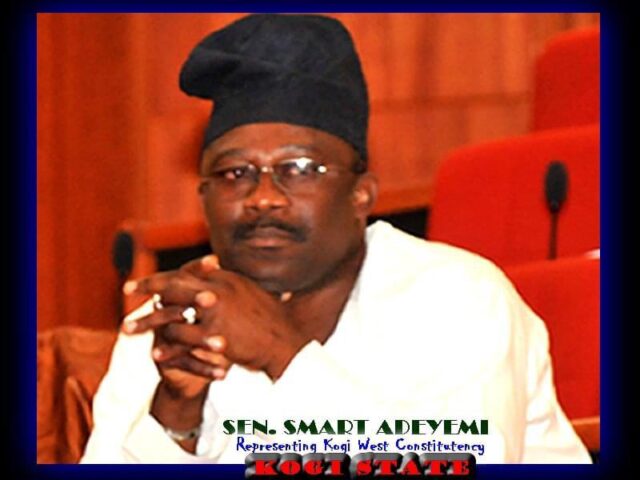 By Oladele Nihi
I write to categorically condemn the many acts of the about to be disposed Senator representing Kogi West Senatorial District, Senator Smart Adeyemi, for making caricature of His Excellency, Governor Yahaya Bello via a WhatsApp status post.
The ungrateful Senator and friend to few posted a cartooned picture of His Excellency Governor Yahaya Bello laying on a stretcher; as President Muhammadu Buhari raised up a red flag, while His Excellency, Chief Edward Onoja and Hon. Abubakar Ohere looks on in the image. This was done by Smart Adeyemi in a bid to mock Governor Yahaya Bello for loosing out of the Presidency race at the just concluded APC Special National Convention and Presidential Primary; as the image clearly represents what is presumed.
We all can recall how broke and drained the tamed Ajanaku was before 2016, selling off properties and rolling in loans to sustain his standard of living. This continued for a while before His Excellency, Governor Yahaya Bello rescued him from his obscurity and brought him back to the limelight by supporting his Senatorial ambition that brought him to power in 2019. Smart Adeyemi is busy chewing on the same hand that fed him for over three years before he went back to the Red Chamber; as he reduced himself into a political comrade running errands for stipends.
For the about to be displaced or disposed Senator to be making mockery of His Excellency, Governor Yahaya Bello via his WhatsApp status post, is totally not acceptable and outrightly wrong. Despite the fact that he deleted same post after few minutes out of fear, he must proceed with a proper apology to be tendered to Governor Yahaya Bello, to appease his direct attack on the Governor's personality.
This bridge burning attitude displayed by Smart Adeyemi has further shown why he should be tamed the more not given any political audience to enhance his arrogance and lack of gratitude.
Governor Yahaya Bello remains an undisputed champion of the Nigerian youth with a clear cause of liberating the country of the analogue rule and old dogmas. This vision is intact, realistic, and totally achievable. Therefore, petty distractions from a clueless and about to go Senator won't be tolerated.
About Post Author