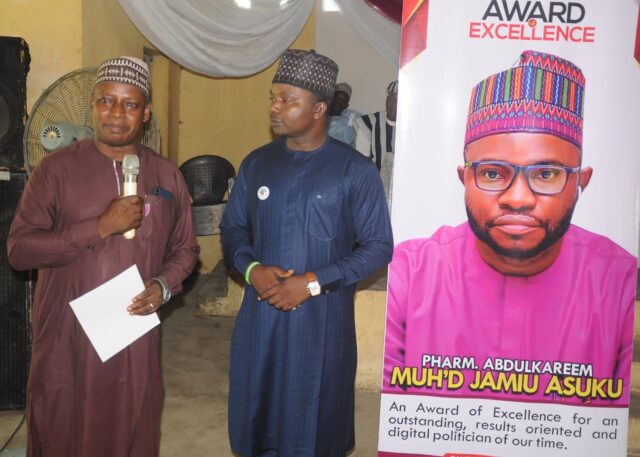 The Chief of Staff to the Governor of Kogi State, Pharm. Abdulkareem Asuku Jamiu yesterday, received another award for being the outstanding and goal oriented person he is, from the Adavi Youths Consultative Congress.
The ceremony was witnessed by highly revered personalities of Ebiraland, which included the Ohi of Adavi, Asema of Ezi-Uka, Okara of Emani, Sheikh Shuaib Ahmad Rufai and many others.
The youths Congress said that the Chief of Staff is recognized not just for his Philanthropy but also for his efficiency and effectiveness in carrying out his duties both at his former position as the DG protocol and his current position as the chief of staff.
The Chief of Staff who was represented by the executive secretary of Kogi State Agency for the Control of AIDS (KOSACA), Dr Yunusa Sheidu, dedicated the award to Governor Yahaya Bello for his exceptional leadership qualities.
He went further to urge the the good people of Adavi to continue to provide the necessary supports for the Presidential ambitions of the governor.