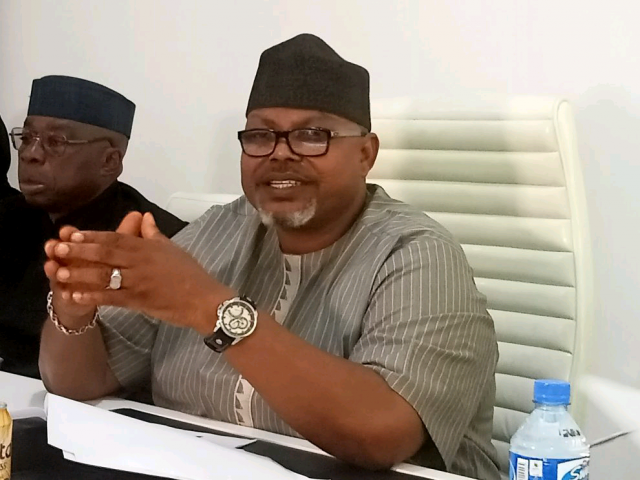 Kogi State Government has given one months grace notice begining from today, 14th September 2021 to business owners in the state to register their business premises or face sanction.
The State Government in a joint press conference by the ministry of Commerce and Industry and the State Internal Revenue Service, in Lokoja, appealed to the General Public to comply with the provisions of the law concerning registering of business with ministry of Commerce and Industry as required by law.
According to the Commissioner, Ministry of Commerce and Industry, Hon. Yunusa Olofu, this is to avoid sanction or punishment as the case may be, urged business operators to pay their taxes directly into KGIRS specified account and obtain receipt or teller; thereafter proceed to ministry of Commerce and Industry to obtain their Business Premises certificate.
The Commissioner explained that the direct payment to the Bank is in accordance with the cashless policy of the State Government, reiterated that business operators in the state are given a grace period of one month to pay their taxes with effect from today.
He warned that at the expiration of one month, the state tax force on revenue drive would tour round all business establishments in the state to enforce the law.
He disclosed that the ministry of Commerce and KGIRS have Area tax officers at the various LGAs and other Strategic positions to assist tax payers meet up their payments.
The list of businesses according to the provisions of the law the Commissioner explained covers wide range of enterprises of about 100 different businesses including the new areas of tax drive such as POS, Miners, contractors handling jobs for Kogi State Government and others.
According the Commissioner, the State Internal Revenue service, was established by the "Kogi State Board of Internal revenue Administration, harmonization of taxes, duties, levies and Revenue appeal tribunal law, 2017"; to effectively and efficiently manage revenue administration of the state Government.
He disclosed that the Ministry of Commerce and Industry drives the Revenue on Registration of Business Premises Certificates/Renewals, while Kogi State internal revenue service collects the revenue for State Government; hence we work in synergy according to the provisions of the law.
He further added that Kogi State Government of Nigeria Registration of Business Premises Law, 2007; Section 2, Sub Section 4 of registration of business premises law and other matters connected therewith 2007, interprets business premises to mean: the premises on which the company, firm or individual carried or caries on any business, whether fenced or not.
Furthermore, he said Section 2, sub section 2 interprets business to include any trade, industry or profession and any occupation carried on for profit… in Kogi State.
Similarly, he explained that Section 3, sub section 1 of the aforementioned law further provides that premises of business of every company, firm or individual carrying on any business in the State shall be registered in the manner prescribed in this law.
About Post Author