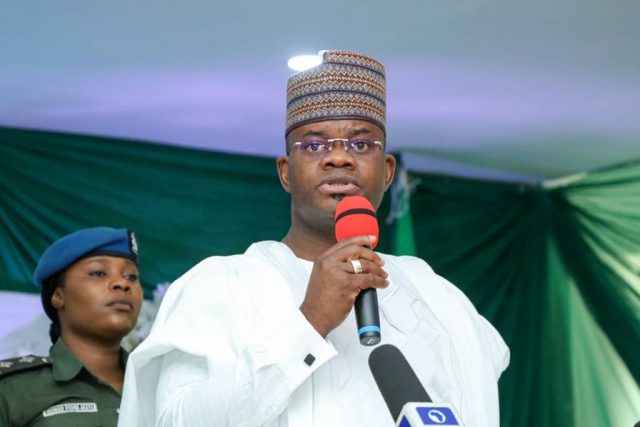 …as Kogi host HOR constitutional review committee's public hearing
Kogi State Governor, Yahaya Bello has charged stakeholders vested with the responsibility of taking a look at and reviewing the country's constitution, especially lawmakers from the National Assembly, to consider Nigeria's Unity, national integration and cooperation as guiding principle
He similarly urged them to bring statesmanship and the overriding national interests to bare while undertaking the task and expressed confidence that the current legislature would bring the exercise to a productive end.
The Governor made this known on Tuesday in Lokoja, while declaring open the North Central Zonal Public Hearing of the House of Representative by the special Committee on the review of the Nation's Constitution.
He asserted that the ongoing constitutional review was one of the most vital tools to address ills in the nation, noting that although this was a trying time, the country's collective response would determine the possible outcome.
The Governor noted that the period presents both threats and opportunities and tha the right response to current challenges as a nation would be transformed into strength.
Governor Bello canvassed equal considerations to all stakeholders in the country, adding that space should be deliberately widened for all lesser groups and discuss, while particularly emphasising that women, youths and People Living with Disabilities must be given favorable attention.
He also called for more powers to be devolved to the state by amending Part 1 and 2 of the second schedule to enable the state have more say on some issues currently fenced off in the exclusive list.
Governor Bello mentioned issues like food and drug administration, administration of criminal justice act, registration, regulations and taxation of businesses, labor matters, mines and solid minerals and others as items which the state must be given free hand over.
The Chairman of the North Central's special committee on the constitutional review exercise and member of the House of Representatives, Hon. Tajudeen Abbas in his opening remarks, stated that although the event was not novel, he believed that the current Assembly would be different and would provide a constitution that would meet the yearning of Nigerians
He highlighted that a total number of 101 bills have been summarized for review and are divided into 11 thematic areas which cuts across Electoral Matters, Local Government Autonomy and Administration, Judiciary, Fundamental Human Rights, Gender equality and Women participation in government.
Others include Immunity Extension, Indigeneship, Devolution of Power, Strengthening the independence of other institutions of government and separation of powers.
He assured the public that efforts of members of the National Assembly was in the interests of the people and the only platform which they had was the public hearing engagements.
Mr. Idrees Alafene the Chairman of the National Union of Local Government Employees who spoke on behalf of the State, noted that the exercise has come at the right time.
He asserted that the empowerment of people at the grassroots was tantamount to development in the country, observing that most of the states experiencing security threats were those that have strangled their local government from autonomy.