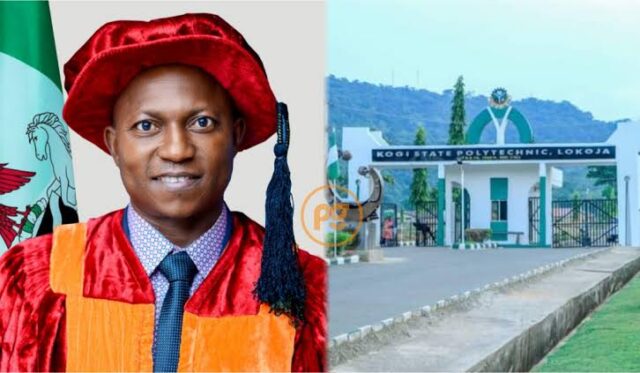 By Onoja Integrity Johnson
Tailoring too many words or explanations to prove a point when writing about good people is not necessary. A simple mention of their name is all that is required because a good name is everything. As a result, whenever and wherever the name Dr. Salisu Usman Ogbo is mentioned, even non-living things in the vicinity are aware that growth, development, and philanthropy are being discussed. The name is synonymous with anything beneficial to humanity. This is one of the key men with whom Governor Yahaya Bello is successfully building the state. You do not need to go verify it; simply Google it.
By now, Nigerians and the rest of the world would have realized that Gov. Yahaya Bello's unexpected emergence as governor of Kogi State in 2015 was completely the work of God. It seemed as if the north-central state could not undergo comprehensive reformation unless the old third-rate leadership was completely replaced. As a result, Gov. Bello divinely emerged, paving the way for a new generation of visionary leaders such as Dr. Ogbo, whose name has become the only name in the mouth of the people whenever the state's academics or education affairs are being talked about.
Gov. Yahaya Bello's eagle eyes in spotting fit with wit individuals and entrusting them with appropriate positions may be difficult to explain. However, the appointment of Dr. Ogbo as Rector of Kogi State Polytechnic, Lokoja, was not really shocking. While at Kogi State University, now Prince Abubakar Audu University, the uncommon teacher had a towering name. And, just as a golden fish has no hiding place in the river, he was called upon.
The Governor appointed the distinguished Doctor to the deserving position of acting Rector on April 7, 2020, there, Dr. Ogbo found a platform to fly above all imaginations. Today, all doubts have been dispelled, and all side talks have been put to rest. His accomplishments have put to rest any doubts about his capacity, with glory to the Governor. But let us not dwell on the past.
Dr. Ogbo, as rector of Kogi Poly, is more or less the leading figure in the Kogi State education sector, working tirelessly to supplement the Governor's legacies.
He made a wise beginning. visiting all local authorities and traditional chiefs to lay the groundwork. As Abraham Lincoln once said, "Give me six hours to chop down a tree and I will spend the first four sharpening the axe," we initially thought he was wasting time. Ogbo had enough time to set up the grounds before taking off, and immediately he took off, all we were seeing was standardizing of everything in the school, including the structures.
The Polytechnic now has one of the best education systems in terms of structures, student welfare, safety, academic standards, and so on, thanks to policies and painstaking paperworks by Dr. Ogbo with the backings of Governor Bello.
The Kogi Poly under the administration of Dr. Ogbo, is highly rated in Webometric's most recent ranking of academic institutions in Nigeria. The Management of Webometric, a leading Spain-based Institutions ranking organization, stated that four ranking factors were used while shedding light on the ranking criteria: openness, impact, presence, and excellence. Kogi State Polytechnic easily surpassed many well-known institutions thanks to their criteria because those components are ingrained in Governor Yahaya Bello's governance model.
Those who knew Dr. Ogbo previously knew that Governor Yahaya Bello had picked the best hand when his confirmation as Rector made headlines in 2021.
In recognition of Dr. Ogbo's contributions to the state's development, the Attah of Igala bestowed a chieftaincy title on him based on his accountable achievements. Such titles are not for common people in Igala land.
Dr. Ogbo is one of the governor's reliable allies, and his appointment remains a legacy the Governor is leaving behind, even as he leaves office months from now.
In the last count of milestone achievements of Dr. Ogbo, the pragmatic leader was credited with over 66 solid projects stemming from physical facility development and renovation, administrative reforms and expansion, academic advancement and quality assurance, student welfare, the provision of vehicles, as well as security.
When the school acquired full accreditation in June last year, the Punch Newspaper reported that the polytechnic is "first among its peers." This was made possible by the best professionals in engineering and other fields being drawn to the institution, by the administration of Rector Ogbo, a feat made possible with the governor's support.
For Governor Bello, there is no room for mediocrity in any sector. Hence, Dr. Ogbo cannot be left behind in an administration whose only mission is to rescue and rebuild the state.
Now that the Kogi State Polytechnic is rebuilt, adding to the reformation of the education system of Kogi State, we Kogites are still expectant of greater things Dr. Ogbo would do for the people in the nearest future if a greater opportunity is given, God's willing.
About Post Author