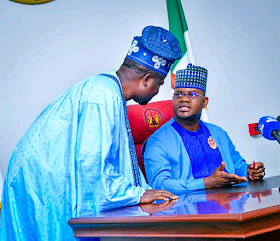 I delightfully wish to celebrate and congratulate my leader, principal, mentor and the ExecutiveGovernorof Kogi state- His Excellency, Governor Yahaya Adoza Bello on the auspicious occasion of his 47th birthday on earth.
Your Excellency sir, you deserve all the granduer celebrations at 47 given your age long commitment to selfless service, patriotism to the nation and relentless effort at advancing the course of humanity.
Kogi and kogites has gained enormously from your people oriented leadership style, uncommon vision for greatness and progressive wisdom that has set the confluence state on a pedestal of sustainable development. Time and season, had proved it consistently, that your emergence is a divine turn around for the fortune of the state and her people.
Its needless, to recount your remarkable strides as a renown security czar for securing kogi state despite bordering 10 other states. A unifier of note that transformed the existential differences along tribe and religion, to a state of harmony and peace. Today in kogi, we now have youths and women, who were hitherto seated at the back, as a major driver of Governance due to your unique inclusive disposition and sensitivity to gender equality. As a state, our first position in the SFTAS indicators assessment amongst the 36 states and FCT in the year 2020, validates the efficiency and efficacy of your leadership.
Your landmark achievements in other sectors of the state like Health, Agriculture, Education, Commerce and infrastructural development is verifiable and a testament to your productive and progressive leadership.
As our leader, your humility, unwavering courage, dedication to the unity of Nigeria and commitment to making the country better is unquestionable.
Under our great party APC, you have redefined capacity, proactiveness and selfless service. The undisputed "star boy" of the whole North.
Your Excellency, with your arrays of emperical accomplishments, leadership values and nationalist disposition, a NEW NIGERIA is possible with you.
On your 47th Birthday, I wish you continuous good health, God's protection and guidance, as well as many more frutiful years of service to humanity and nation.
Signed
Mukadam Asiwaju Asiru Idris,FCA,FCTI
Hon. Commissioner of Finance,Budget and Economic planning, Kogi state
About Post Author