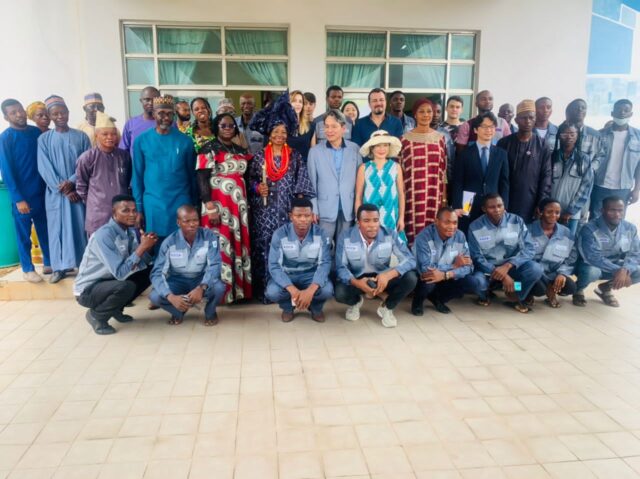 The Ambassador of South Korea, Amb Kim Young-Chae, has commended His Excellency, Gov. Yahaya Belloof Kogi State, for his development strides in the state's education sector.
Young-Chae made the commendation during his visit to the Nigeria Korea Friendship Institute of Vocational and Advance Technology (NKFI) on Friday in Lokoja.
According to Young-Chae, the governor has done well in his educational development strides in the state, describing NKFI Lokoja as the best in Nigeria.
According to him, I have visited many schools in Nigeria but the Korea Government is very comfortable in its partnership with Kogi Government.
He said the visit would open new chapter in fostering the relationship between Nigeria and South Korea.
In his remarks, the Commissioner for Education, Science Technology, FCIB, who received the ambassador on behalf of the State Government, assured him of a worthy partnership, andl promised the continued commitment of the Kogi State Government.
He noted that NKFI came into existence through partnership between Kogi State Government and South Korean Government via Korea International Cooperation Agency (KOICA).
He assured that the Government and the people of Kogi State under the leadership of His Excellency, Gov. Yahaya Bello, were very happy to be associated with KOICA, saying it had done tremendously well in the area of youth training and empowerment through the institute.
The commissioner commended the Korea Government for its huge investment in the institute through KOICA, and assured that the state government would continue to do everything possible to protect the investment.
"We are very grateful for your visit of today which is quite historic because it is happening in my time," he said.
The ambassador was accompanied by the Deputy Ambassador of Italy and his wife, as well as the KOICA Country Director, Mr Son Sungail; Chief Nike Davis-Okundaye; and the Korean Cultural Center Manager, Mr. Bae Sung Jin, among others.
End
By Stephen Adeleye
About Post Author