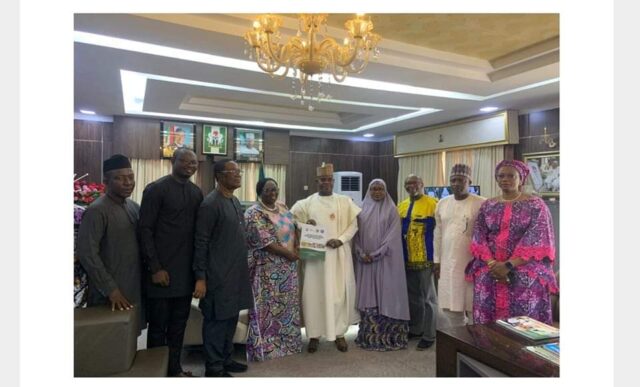 The Director, International fund for Agricultural Development (IFAD), Mrs Dede Ekoue has lauded the outstanding fiscal transparency, agricultural boost and gender inclusiveness of Governor Yahaya Bello in Kogi State.
Mrs Dede Ekoue gave the commendation on today while speaking during a courtesy visit with her team to the Governor in Lokoja.
The IFAD Country Director said the team were impressed with the performance of the Kogi State Government under the leadership of Governor Yahaya Bello in the areas of agriculture, gender equality, accountability and fiscal transparency.
"We congratulate governor Yahaya Bello for your commitment to boosting agriculture, particularly in your support of women's inclusion; your intervention and commitment to strengthening the needs and involvement of youths in Kogi state particularly in income generation and food security."
"We know your commitment especially in the counterpart funding assistance to IFAD to archive its goals. We can boast to say, this counterpart funding are being disbursed to those really in need."
"Mrs. Ekoue said their mission in the state was to review the Value Chain Development Program (VCDP) which has been implemented in nine states including Kogi state with the program's strength boosting very strong in the state.
She said the objective is to access the progress made and also to look into the challenges that needs to be met and opportunities that will be further strengthened to increase the impacts to boost IFAD programmes and further improve on it in Kogi state.
"This visit is important and we salute you for gender equality which is evident in the percentage of the beneficiaries with women taking 53% and the youths at 32%." she said.
Responding, Gov Yahaya Bello appreciated President Muhammed Buhari, IFAD and the representative of the federal ministry of Agriculture for the value being added to farmers and Agriculturaly produce in the state.
He said When he resumed office as governor, Kogi state was formerly called a civil service state, but their commitment to turning the tides has earned the state an Agrarian status, boasting that Kogi state is now "the new food Basket of the Nation".
Bello pledged to continue to give all the necessary support to the program, adding that the commitment of the state government will not seize as they will do more especially with the counterpart funding."
About Post Author