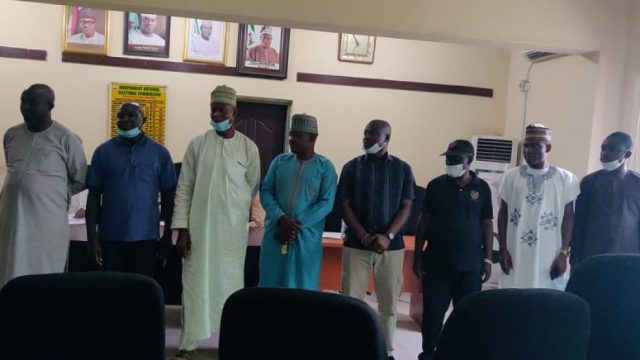 Kogi State Inter Party Advisory Council (IPAC) has elected the state chairman of Nigerian People's Party (NNPP), Hon Ukwenya Musa to succeed Hon Iliyas Badanga and others to pilot its affairs for the next one year.
The new members of executive have been sworn in by the national executives that witnessed the election in Lokoja on Thursday.
Aside Hon Musa, Mr Onuja Umar of People's Redemption Party (PRP) is the new secretary while Mr Isaiah Fela of Accord party is Deputy Chairman and Muhammad Kabir of the People's Democratic Party (PDP) will serve as the Publicity Secretary for the same period of time.
Also elected were Hon Sam Olu Akerele of Action Democratic Party (Oraganzing Secretary); Mr Abdulazeez rikora of All Progressives Grand Alliance (Financial Secretary); Hon Onaji James of Action Alliance (Legal Adviser); and Mr Ibrahim Musa of Labour Party (Treasurer).
Speaking shortly after his election, the new chairman who expressed gratitude to God and to his colleagues for the opportunity given him to serve, promised to ensure due diligence in the discharge of his duties as chairman.
He said he was ready to operate an open door, transparent and accountable leadership, adding that he would reign in necessary changes that would move the body forward.
Hon Ukwenya who described his colleagues as true democrats noted that they were models that other bodies should copy from, and promised that he would also ensure the legacies of his predecessors were not trampled upon.
The immediate past chairman of IPAC in the state, Hon Iliyas Badanga who thanked the members for the opportunity given him to pilot their affairs in the past one year, urged them to give necessary support to the new chairman and his team.
He advised the incoming leadership to introduce necessary reforms that would benefit members positively, adding that IPAC is a family that must survive to grow the nation's nascent democracy.
On his part, the representative of the National Chairman of IPAc who oversaw the election lauded members from Kogi State for their show of maturity in the conduct of their affairs, adding that they are not an opposition conglomerate, but a body existing to advise the ruling party and the electoral umpire where necessary.
About Post Author