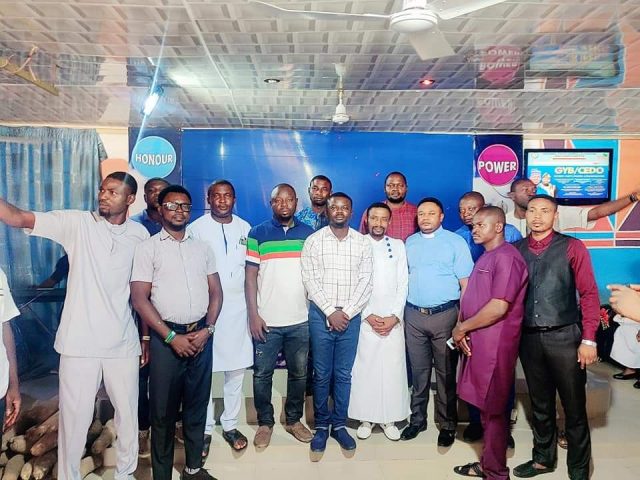 Kogi State chapter National Youth Council of Nigeria, NYCN has continued activities to mark victory party for the State Governor, Alhaji Yahaya Bello's victory in the November gubernatorial polls with a thanksgiving church service which held on Sunday.
The service held at the Greater Light Christian Centre, Adankolo, where the Pastor in charge of the church, Pastor Daniel Praise Bala, prayed for the continued growth and development of the state under the present administration.
According to the Pastor, the church would never stop praying for leaders in positions of authority because there was need to take their matters to God so that they would be well guided.
He anchored his session on first Timothy 2 where God asked believers to pray for all men and give thanksgiving on their behalf, noting that God does not discriminate on who Christians should pray for.
The clergyman enjoined believers to always pray for peaceful coexistence among citizens of the state and the country, noting that no one succeeds without submitting himself to divine guidance and ensuring expression of gratitude regularly.
Speaking, the State Youth Council Chairman, Comrade Israel Alonge said the thanking was necessary because there was need to return all appreciation to Almighty God.
He said the council decided to participate fully in the election because God was able to grant the wishes of the state's youths who stood their grounds because they did so much for the state in the first tenure.
Comrade Alonge said the youths see themselves as leaders of today and not tomorrow, hence their resolve to support it and to hold the Thanksgiving service to in the church.
He expressed appreciation to the Almighty God for the way he had led the government so far, and assured citizens of Kogi State of better days in the second term of Governor Bello. Speaking, the Chairman of the organizing committee for the event, Comrade Sunday Ali expressed gratitude to God for the success of the APC and Governor Bello, adding that the service was apt in view of the way the youth have been allowed to take their place in the governance of Kogi Stat.
In his intercessory prayer, a former aide to Governor Bello, Hon Nda Aaron also expressed gratitude to God Almighty for how far he had led the administration of Governor Bello, adding that the administration was youthful and useful and prayed for sustenance of the policies and programmes of the administration.
Highlights of the service include a special thanksgiving praise rendition by the Itura Gospel Musical Crew and special prayer session by the church for the success of Governor Yahaya Bello and his deputy, Chief Edward Onoja.
About Post Author