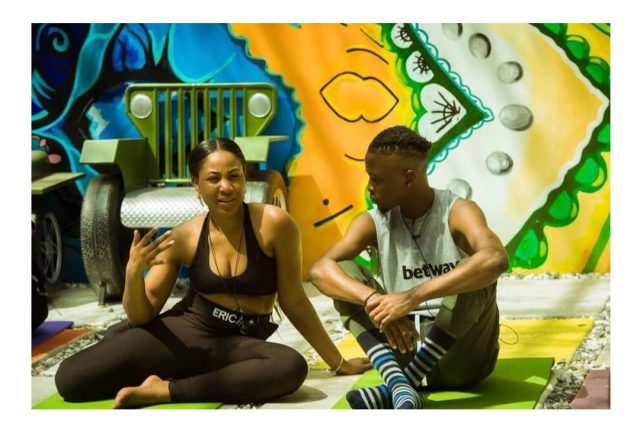 Laycon for the money. Forget those semi – feminists with their veiled sense of entitlement on this app spewing trash because their witch of an icon – Erica, was 'exorcised' by the brilliance of Laycon.
In one breath, the ill – bred narcissist described Laycon as not bringing anything to the house and then in the same breath said she was only interested in his brains. It means he actually brings something to the table. Her intention was to manipulate her way to the top of the shelf. But she was outsmarted by the 'BroomStick' as she described the young man.
Remember how several persons have bad mouthed Laycon at the beginning? Somebody even made a post about the guy that trended. The person said Laycon was going to steal somebody's phone before the end of the show and everyone shared the post, retweeted it just for the laughs.
Laycon knew what he was bringing to the table; it was not the riches of Kiddwaya or the looks of Ozo. He is bringing practical intelligence and pure talent to the house and did not allow anything to distract him. He started off slow and worked his way to viewers' consciousness. You need to see last week's votes to understand how his base has grown exponentially.
When grit and talent talk, you must listen.
The likes of Erica are everywhere. You encounter them in your place of work; in school and in the society generally. They think because they have boobs and ass, they could manipulate you to their advantage and when caught, they begin to play the victim card riled with emotion.
Laycon's intelligence is out for everyone to see. He may not have the looks of Kiddwaya or Ozo, but Laycon is a man whose talent is out there for everyone to see. Like Symply Tacha last year, Erica deserved to be booted out of the house. Anyone that wins the competition should be someone the young ones can look up to for something. Not just looks.
They should bring something extra to the table. They should be inspirational to others and help people aspire to fulfilling their full potential. People should believe their hard work can take them places and give them sits on the table beyond ordinary looks.
Character counts too. The corporate world can latch onto Erica's looks and give her jobs as a brand ambassador and whatnot, but the truth is society needs and deserves more.
Erica said the house would become boring without her, that is a classic narcissistic thought. She'll be out here with us and see others step to the plate and make the place much more fun and tranquil for the rest of those left to fight for the money on offer. Her fans should advice her about her temper. Maybe she has learnt her lessons.
About Post Author