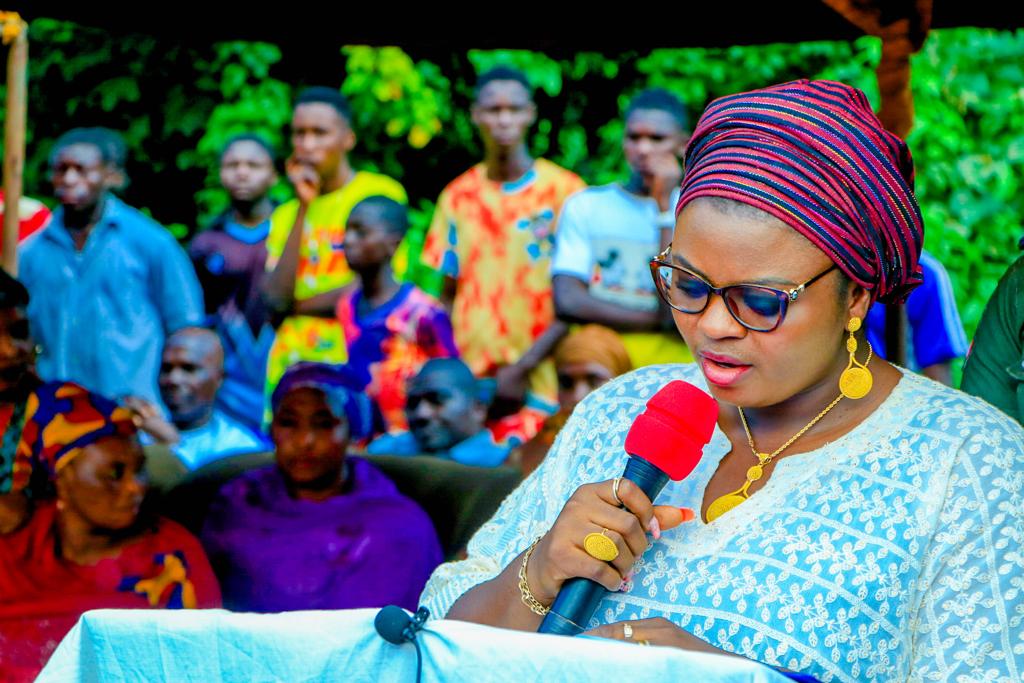 Good afternoon. My name is Mrs. Mercy Ejura Onoja, wife to His Excellency, Chief Edward Onoja, the Deputy Governor of Kogi State. I am here representing my husband for very significant reasons.
First of all, let me make a few personal remarks. November 16 every year will always be a day of deep introspection and thanksgiving for me. It was on exactly on this day 2 years ago that hired assassins sought to sacrifice me on the altar of politics.
I had gone out like other patriotic citizens to exercise my franchise and vote for our boss, His Excellency, Governor Yahaya Bello of Kogi State as well as for my husband who was his running mate. Right in my father's village, among my own people, hired assassin attacked me and poured hot bullets on my vehicles. It took the grace of God and the gallant officers in my convoy for today not to become the memorial day of another EJURA in Igalaland.
To God alone be the Glory!
Let me sound like a pastor and say that life is best measured in its donation (ie, contribution or products) than its duration or mere length. We are here to memorialise a great daughter of this family, Victoria Ejura Omagbogu, who died in January of 2008. Whether the devil likes it or not, a woman who died over a decade ago, has just built a house for her father! Relatively speaking, Sister Ejura has done what many hard-working humans of her age who are alive today have not been able to do for themselves much less their parents. Everything you see done here today would not have happened if Madam Victoria Ejura Omagbogu née Musa had not lived. Therefore her life, though short in duration, remains massive in donation.
Secondly, we live uncertain lives on this earth so we must make each moment count in service to God and humanity. Actually, the Bible says life is a vapour, and it is equally as ephemeral as water vapour. In James 4:14, the Holy Writ says, "…ye know not what shall be on the morrow. For what is your life? It is even a vapour, that appeareth for a little time, and then vanisheth away."
Not only that, but God's word tells us that this our world itself will be dissolved and pass away on a day that only Almighty God knows. 2 Peter 3:10 says, "But the day of the Lord will come as a thief in the night; in the which the heavens shall pass away with a great noise, and the elements shall melt with fervent heat, the earth also and the works that are therein shall be burned up."
In other words, even if we get a long life, we cannot still live forever in this flesh and on this earth. The critical question then is what God asks us in 3 Peter 3:11: "Therefore, since all these things will be dissolved, what manner of persons ought you to be…?"
My point is simple. Standing here today, performing this duty on behalf of my husband, I am again reminded of the great love for God and man that characterises the life of the man I am married to. Edward David Onoja is not perfect, but I can testify that he is a man who understands that life is uncertain, that this world is not our final destination and that the riches, fame and power God brings our way ought to make us better stewards of the manifold riches of God because they are merely tools to serve Him and humanity better. This house we are handing over today is another proof ot that.
The third thing I want to highlight is that God's goodness to us is best appreciated by doing the greatest good we can to those God has led us to. God has been good to me and my family, and I for one, I am always overwhelmed with joy whenever we can bring a smile to a face, no matter how small the token.
Although Sister Ejura's fire may have been brutally extinguished before it could shine to full intensity, yet it remains a very resilient flame that has brightened the lives of her parents, children and siblings today. No doubt, it will continue to bring them sweet consolation in the years to come. I hope that today's events will help to further comfort this family on the loss of their daughter. The animals in human skin who had hands in her untimely death will forever remain cursed.
Now, let me go in and read my husband's speech in his own words.
MESSAGE BY HIS EXCELLENCY, CHIEF EDWARD DAVID ONOJA, DEPUTY GOVERNOR OF KOGI STATE AT THE HANDOVER OF A HOME BUILT IN THE NAME OF HIS BOSS THE LATE MRS VICTORIA EJURA OMAGBOGU TO HER FATHER IN ODOLU, DEKINA LOCAL GOVERNMENT AREA, KOGI STATE ON 16TH DAY OF NOVEMBER, 2021
I am here today to fulfil a creed of friendship, mentoring and brotherhood, even though it is sadly happening in the absence of the beautiful, godly soul, Victoria Ejura Omagbogu, that it is in honour of. I am beyond blessed today and thankful to God too for enabling me to deliver on a promise I made to honour of my late boss, mentor and sister like this. Sister Ejura was a woman who stood for everything good and did not hesitate to make sacrifices to improve the lives of other people. The world lost a lot when she was painfully cut off as her star was rising rapidly.
Ejura did not see success as merely physical things seen by the eyes, but something deeper, a contentment of the soul that words alone could not describe. She considered happiness as the soul of achievement whether you are a king or a pauper. This is why she invested so much in moulding the happiness of others – of whom I am but one.
Our paths crossed in 2001, November 4th to be precise, in Jos, Plateau State. I had just been employed as an Executive Trainee Banker, a Customer Service Officer, and Mrs Victoria Ejura was the backup and Teller Captain. She showed her angelic traits when she agreed to pick me up from the motor park on a Sunday – one day earlier to my official resumption at the bank.
Mind you, at that particular time her husband was in the hospital following a ghastly motor accident yet this woman squeezed out time to come and receive a total stranger, who was even a far junior officer! She drove me to the Bank's Guest House at Rayfield, Jos which was some distance made sure I was settled in. Not only that, she took an interest in my wellbeing and followed my career progression with keen interest as I learnt every working detail of banking experience under her tutelage.
Ejura and I both served under an Operation Manager by name of Mr. Kayode Adaramodu from that 2001. He too, is present at this house dedication today to underscore the impact of her life. Mr. Adaramodu is one of the leading Aspirants of the Peoples Democratic Party for next year's Governorship Elections in Ekiti State. Oh how I wish he was aspiring under the APC. Sir Kay, as a great boss with good leadership traits who also contributed greatly to the banker that I became before God moved me on to other things, I wish you what the heavens wish for you as you quest to serve the fountain of knowledgeable people of Ekiti State. I thank you for leaving the field to honour Madam Vic as we fondly called her. You are indeed a boss for life.
It was while in Kogi as Head of Operations in January 2008 having moved first from Jos to Makurdi in 2003 and to Lokoja branch in 2005 that I received the shocking news of her death, brutally assassinated in front of her house in Jos by unidentified assailants. This woman was murdered in her prime and innocence; a woman that could not hurt a fly met the cruellest death in the hands of dare-devil killers. They killed her for no reason thus exterminating the dream of a woman who had given her all to the expectations of life. One thing they failed to do however was to kill her memory. They murdered her body, but certainly not her soul. We are here today in memory of that beautiful soul which could never be dimmed by the worst malice of life. That 2008 the lot fell on me to join the Guaranty Trust Bank team lead by our Regional Head Madam Tayo and Mr. John Iyaji, another Igala man, that bid her farewell at Odu Ikaka, Dekina, her hometown where she was buried. May her soul forever rest in peace.
Sometimes last year around November 6th, 2020 while dedicating the house God made possible for me to build for my mother, I made a promise to the parents of late Victoria Omagbogu that with the grace of the Lord, I would also build a house for them in their country home – same thing Victoria would have done for them if she was alive! I made that promise in fulfilment of the life of being good which Victoria was to me – remember she trained me to become a financial expert. I considered it my duty, a little way to reciprocate her kind gesture even in absentia!!
Today is November 16 and it's very remarkable for me. Two years ago today was the election that brought us back as a government that I am serving as Deputy Governor. Two years ago, someone – very highly placed in our Party (Not from Kogi) did say to my Principal and few of us during a strategy session that my wife (who incidentally shares same name 'Ejura' as late Victoria) would not be voting for my Party in the forthcoming elections. The man was embittered by deep ethnic sentiments because I was standing with an Ebira man against an Igala opponent. That statement was shocking but it tells how deep the tribal and religious sentiment runs deep in some people. Anyway we made the mistake at the time of treating it as mere political talk. Were we wrong!
On election day, right in front of her kinsmen in Egume, and just after voting for APC with her supporters, four heavily armed assassins wielding AK47 rifles came for her life. We give God the glory that she is alive today to hand over this house as a testimony that God cannot lie. I give God the glory for sparing my wife's life and I make bold to say that nobody's life is worth losing on the account of any political aspirations. I repeat, the quest to serve the people should not in any way call for bloodletting.
As the Number 2 man in Kogi State, I am happy that the security of lives and properties in our dear Kogi State continues to improve with each passing day under the oversight of my boss. Today we are ranked the safest state in the federation because, among other things, His Excellency, Governor Yahaya Bello takes his duty as the Chief Security Officer of this State to be his principal and primary job as Governor. I can assure our people that he is not relenting and that we will continue to improve security for you all. Let me also say that a man who has cracked the success code for Security of lives and properties, Unity in massive diversity and Peace (cooperation and integration) which are the 3 major problems of Nigeria is the man that shall lead Nigeria to greatness. 2023 is a date, by the grace of Almighty God!
Let me now ask that we all rise for a moment of silence for all those who have needlessly lost their lives across Nigeria since the inception of democracy and because of the godless quest for power. May their souls rest in Perfect Peace.
Today, this building marks about the 18th structure that God has helped me to facilitate for communities, individuals, and religious bodies as the case may be. These efforts are of course heavily supported round by my boss, friend and brother, His Excellency Governor Yahaya Bello of Kogi State, my other friends and associates within and outside the state. I want to believe that come Year 2022, God sparing our lives, I will be finally dedicating my personal home in my village along with 2 other buildings. This goes to say that always, God leads you to a position so that you can make the most impact you can to your world and humanity.
My late sister Victoria Ejura Omabogwu left four lovely children; a lady who is in her final year reading law in the university and three younger brothers and her beloved Father Barrister Omabogu. I will be placing Favor Omagbogu, the daughter on a N500,000 scholarship for her law school when the time comes, and the other brothers on another N500,000 to be collectively disbursed as at when needed.
It is only human nature to want to help those who have helped us. Each of us has a deep-seated hunger to do unto others as they have done unto us. I cannot say much but I encourage all of us to do the best we can for those around us, for those who have gone the great beyond, for those who have been instrumental to our growth and aspirations. I can assure you that once you do this, God will always protect and keep you for greater exploits, for generally speaking, good things happen to people who do good things. Do good and you cannot help but see good results. This particular project gives me the greatest satisfaction ever. I am deeply fulfilled.
I thank you for joining us in the dedication of this little home that God has built for Mr. and Mrs. Simon Musa the lovely parents of my dear sister late Mrs. Victoria Ejura Omagbogu who passed on January 4th 2008.
May Almighty bless us all and bless this home.
May He also bless our people and our land.
Thank you All.
EDWARD ONOJA
Deputy Governor of Kogi State
About Post Author