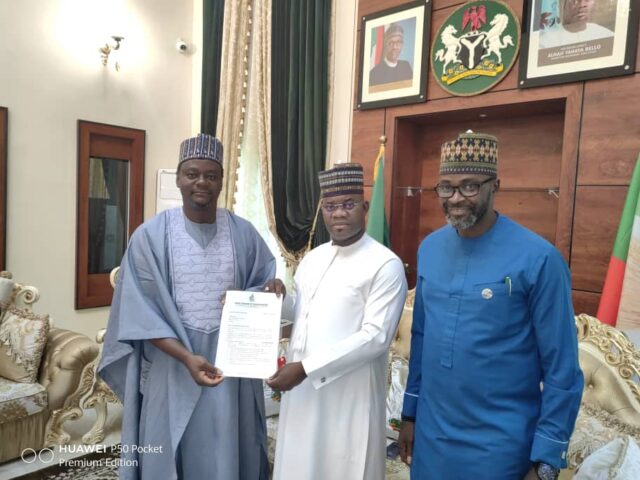 The Provost, Kogi State College of Education, Ankpa, Dr. M.K Ibrahim has attributed the 100 percent outing of the College in the recent results of accreditation to the unwavering commitment of Governor Yahaya Bello to all round development of the College.
The results of the accreditation as released by the National Commission for Colleges of Education (NCCE) confirmed that all the 32 programmes of the institution received full accreditation status. This is the outcome of an 18 team panelist that visited the institution in March, 2022.
In his interaction with newsmen in his office, the Provost outlined the huge support received from the Governor over the last one year to include recruitment of qualified academic staff into various programmes of the College, massive improvement in physical infrastructure, provision of instructional materials and teaching aids, upgrade of medical facility and enhanced on-campus security network. In the words of the Provost "all of these support and more put the College on a firm footing to welcome the accreditation panelists ".
Dr. M.K Ibrahim noted that the recent exercise comes after 10 years of non-accreditation of the College programmes as the last one was in 2012. In addition, the full accreditation status is a feat that has never been recorded in the almost 40 years of the College.
The Provost reported that owing to the rapid transformation recorded in the last one year, the College visibility has greatly improved in several spheres and is now the destination for several national conferences & workshops. As at the time of the interaction, the 30th Conference of the Committee of College Librarians of Nigeria (COCLIN) was ongoing in the College.
He used the opportunity to thank His Excellency Governor Yahaya Bello for his passion for educational development at all levels in the State and special interest in the development of the College. The Provost equally appreciated the Commissioner for Education, Science & Technology, Hon. Wemi Jones for his massive support in preparation of the College for the accreditation exercise. He appreciated the cooperation and support received from members of the Governing Council of the institution headed by Dr. Muyiwa Babatunde, the College management team, staff and students.