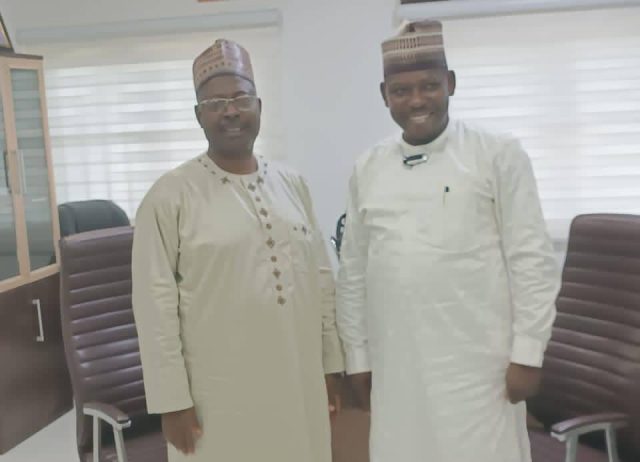 The Chief Medical Director of Reference Hospital, Okene, Prof Solomon Avidime earlier today paid a courtesy call on the Chief Medical Director of Kogi State Specialist Hospital Lokoja, Prof. Isa Adagiri.
Prof. Solomon Avidime who explained to his counterpart about the availability of state of art facilities in the new Reference hospital Okene, expressed desire for collaboration with the state Specialist Hospital in all speciality of medicine available in the Lokoja hospital as the Reference Hospital recommences health care services as public facility. Among the possible areas to be explored are visitation of consultants and patronage in the area of radiological investigations like the CT scan and the MRI. Also, Prof Avidime hinted that in due course, Reference Hospital Okene will also have enough supply of oxygen as the oxygen plant at full capacity can produce 100 cylinders per day.
Prof. Adagiri congratulated the new CMD on his appointment, describing it as well deserved looking at his experience and pedigree in medicine and administration, he promised to work closely with Reference hospital Okene and take advantage of the facilities in delivering health care services to the people of Kogi State.
Earlier, Prof. Solomon Avidime visited the CMD of Federal Teaching Hospital Lokoja on the same note of collaboration, which was highly welcomed by the CMD with positive response.
About Post Author