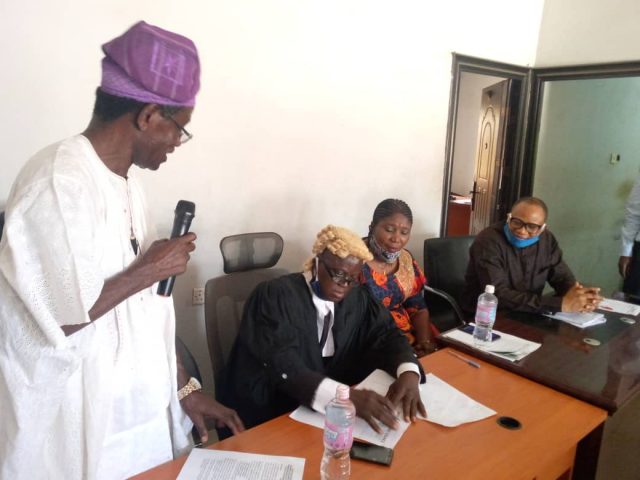 The Nigerian Shippers Council, the Federal Government agency for Protection of the interest of shippers, has inaugurated the newly elected Executive Committee of KOGI State Shippers Association.
This was contained in a press statement signed by the Public Relations Secretary, Elder Donatus Okpe and made available to Insidestory in Lokoja.
The new EXCO was inaugurated by the Zonal Director of Nigerian of Shippers' Council, Mrs Ify Okolue and assisted by Bar Omachoko who administered the oath of office
Mrs Okolue who expressed regret over the death of the former President of the association, ACG of Customs, Mr Jimmy Olumide (rtd), also sympathised with the Managing Director of PEELINK ELECTRO WORLD LTD ,Mr Peter Emeka Onujeme following the fire disaster that destroyed his business empire in 2020.
She assured the Shippers' Association EXCO led by Comrade Habuh-Rajan Suleiman that the Council would support the association by facilitating the export and import of goods, adding that "the agency is ever ready to put its legal services at the disposal of genuine and law-abiding Shippers at no cost on the part of members of association."
The President of the newly inaugurated association, Comrade Habuh-Rajan Suleiman expressed the readiness of the EXCO to cooperate with the Shippers' and Export Promotion Councils, Nigerian Customs Service, Kogi Chamber of Commerce, Nigerian Inland Waterways Authority (NIWA), and relevant government agencies to enhance best practices in export and import businesses.
Being home to solid minerals and exportable cash crops, he assured that the inauguration of the EXCO would usher in a new dawn for Kogi State in the conduct of the businesses of the organized private sector.
Other members of the Kogi State Shippers' Association include;
Mr Okotie Felix (Vice President), Elder Mike Dania (Secretary), Iyke . A. Joel (Asst Secretary), Alhaji Ichapi Mohammed (Treasurer), Mr Darlington Jide Ofor (Financial Secretary), Elder Donatus Okpe JP (Public Relations Secretary), Mr Biodun Akerejola (Auditor), Engr Meduteni (Ex-Officio member), and Mr Nuhu Adaji (Ex-Officio Member).
About Post Author