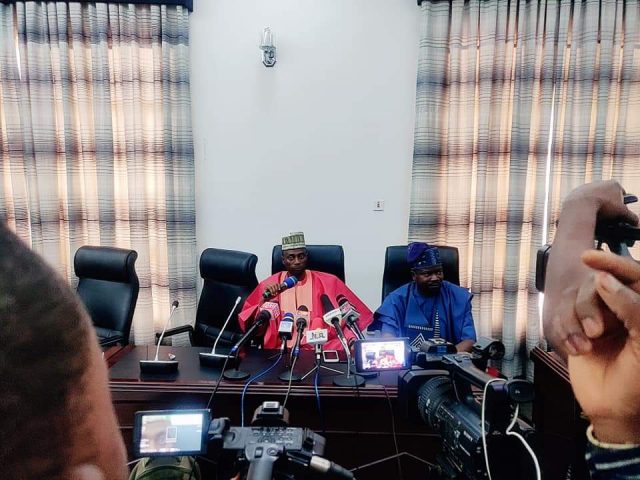 Kogi State Government has clarified its decision to request for $100 million loan for capital projects to help in developing its infrastructure around Staple Crops Processing Zones of the state.
The Commissioner for Finance, Budget and Economic Planning, Hon Idris Asiwaju Ashiru made the clarification this Wednesday during a press briefing at the end of the State Executive Council Meeting in Lokoja.
Hon Ashiru said the infrastructure to be developed include roads, provision of electricity, potable water among others within the Staple Crops Zones to encourage investors to come and invest in any agricultural business of their choice.
"Out of that fund also, government is going to develop the Agric Business in such areas and provide necessary social infrastructure for such settlements; the Fiscal Sustainability Plan guarantees that for a state to be able to borrow, it must have a reasonable Total Liability that must compare favourably to its total revenue.
"Furthermore, if a state is to borrow, the policy says the percentage should not be more than 250 percent and as at December 2019, Kogi State percentage rate stands at 147 percent.
"Another condition is to look at the state's total revenue for the past one year and how much is being paid monthly, 40 percent of it should not be more than what is used to offset debt and what is being used to service debt in Kogi State today is 28 percent revenue.
"We know the state can still borrow for Capital Projects but not for consumption. We still have 12 percent gap and with it, we can borrow for capital projects that will assist in employment generation, food security, improved revenue and critical infrastructural advancement across the state.
"Kogi, as planned by Governor Yahaya Bello today is fighting to ensure both physical and food security because without one, the other would be impossible to achieve. When there is food security, the citizens of the state will be fully engaged and crime will be drastically reduced."
The Commissioner also revealed that Governor Bello has approved the setting up of a committee to coordinate the activities of World Bank and other donor agencies and a Department of International Cooperation has been created in his ministry to that effect to block wastages, avoid replication in line with the New Direction Blueprint
He said the Governor has further directed members of the State Executive Council to submit their work plan for the first quarter of year 2020 according to the budget and that with it, government would be able to coordinate and ensure budget performance is improved.
"In addition, the Governor has directed that the committee on the economy of the state work to ensure all ministries and revenue generating agencies work hard to see how they can contribute to the economy of the state.
"He reiterated his commitment to ensuring strong fiscal discipline and to do that, he has directed that all approvals must pass through laid down procedures in the state. All payments must pass through the ministry's Transparency, Efficiency and Accountability Unit through which all requests must pass. Post payment audit must also be done by the State Auditor General," the commissioner stated.
About Post Author