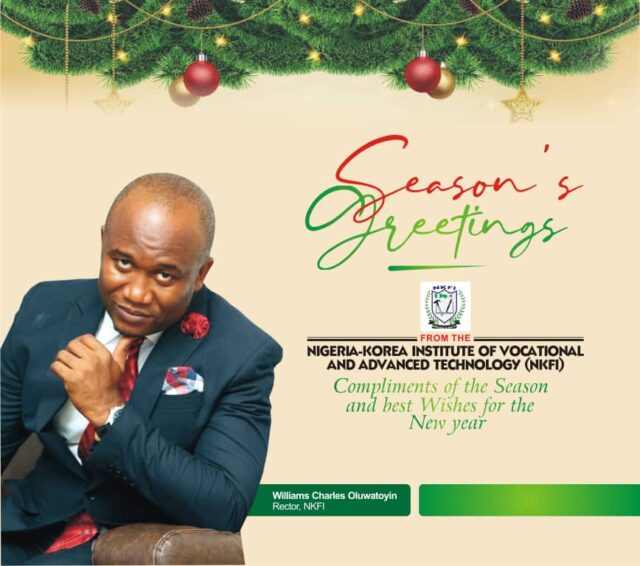 …greets Kogites, Staff, students
The Rector, Nigeria-Korea Friendship Institute Mr Williams Charles Okuwatoyin has opined that the New year promises a great deal of hope with the possibility of New opportunities, fruitfulness and prosperity adding that the Vocational Institute is better placed than ever to make the people prosper and succeed.
The Rector made this known on the eve of the New Year in a press statement signed by him where he extended his felicitation to Kogi citizens and by extension all stakeholders of the institute for witnessing the end of the year 2022 adding that despite all the challenges faced, God's mercy and grace pulled them through.
While appreciating the Kogi State Government under the leadership of Governor Yahaya Bello as well as other stakeholders of the institute for their support for NKFI all through the year which has helped to facilitate the tangible progress made in the institute in the last few days, the Rector appealed for continued support, partnership and synergy.
The Rector extended his felicitation to the staffs and students of the institute noting that the new Year brings with it the opportunity to re strategize and make better plans hence they should strive to be a better version of themselves as they plan to make the most of the newness that comes with a new year.
He further appealed to well meaning Nigerians, politicians, Traditional Rulers to reconsider making a resolution to offer scholarships to youths within their locality at NKFI assuring that such gesture would yield a great deal of return as any individual who pass through the institute have the opportunity to be moulded into a more efficient, effective and employable member of the society.
The Rector prayed for God to continue to empower the Kogi state government to be able to sustain the numerous achievements attained in previous years and even do more, alluding that under a progressive state the benefits touches the entire citizenry.
About Post Author