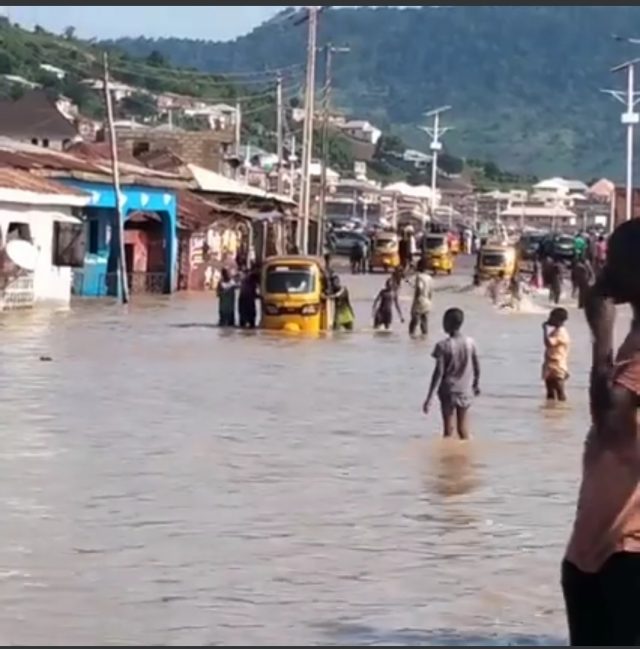 Residents of Lokoja, Kogi State and the entire country are beginning to heave a sigh of relief as a result of recession of the water level that has caused flooding. But before now, highways, balconies, sitting rooms, kitchens and even bedrooms have become places only accessible through boats and canoes. Farmlands, Human lives and properties washed off while others are being destroyed as a result of the rise in water levels across Kogi State. Those who heed early warnings evacuated their belongings and loved ones to higher grounds; but for others, it is about taking it upon faith that the water levels would not rise to the level it did in 2012. But flooding does not listen to prayers, it only does what it would – swallow up whatever is on its path.

From Kotonkarfe to Lokoja; Ibaji to Idah; Ajaokuta to Omala and other parts of Kogi State, especially the riverine areas; it is one complaint after another. Ganaja in Ajaokuta Lokoja Local Government of Kogi State which bothers Lokoja directly has become one of the flagship areas affected by the flooding. In Kotonkarfe, the Jamata Bridge became the Internally Displaced Persons place of temporary abode. They are people from farming community of Irenodu. They are staying in makeshift enclaves made of Bamboos, sticks and grasses. They line close to the Bridge on your way to Abuja.

Muhammed Musa is one of the victims and one of the victims on the bridge. He is taking the whole experience with faith and says it was destined even before he was created. To him, his Islamic belief teaches him to 'chin up' and take whatever comes his way – good or bad.

"There is nothing anybody could have done about it (the flood). In Islam, a believer is expected to accept whatever happens to him irrespective of the outcome. That is why I see the flood as something no one can prevent. We just hope government at both Federal and state would assist us to have decent temporary accommodation as we wait for it to recede."

Hauwawu Aminu, one of the victims who watched as Musa was speaking beckoned. She was eager to talk of the hunger that would result from the flooding. She says as farmers, she had cultivated rice, sorghum, millet and maize on her farm. She is sad that she couldn't harvest anything before the flooding took over her farmland. Hauwawu said other women and men on the makeshift buildings are farmers and fishermen whose means of livelihood has been affected. She wants some form of palliatives to be provided them to cushion the effect of the disaster.

"Nobody prays for something like this. We have been living like destitutes on this bridge, hoping government would notice us and provide us with some sort of intervention. Our means of livelihood which is farming have been destroyed. Thank God for some relations that stay in places of high grounds where we have kept out goods."

Grace Samuel stays in Ganaja. She can't come to 'town' (Lokoja) as often as she wanted due to the continued rise in water levels. She wants government's interventions in constructing alternative routes to town to allow essential public servants to be present at their places of work. She prays it doesn't rise to the level of affecting her home as she couldn't afford another accommodation and does not know anyone in town that she would stay with on temporary basis.

She says to come to town, youths of Ganaja have devised means of transpiring them through carrying on their shoulders and boats. She is afraid any of the two may result in her being fell in the water and she cannot swim. "Since I don't want to die now, it is better I stay in my house until the water level subsides."

But Abdullahi Shiru has a different experience. He has moved his family to the family house in Cantonment and abandoned their home around Galilee even though their entire house, including their room has been submerged in the water. He said he was smart to make sure he took his credentials away and tucked his boxes with important goods on the top of the built wardrobe. He is only afraid snakes may enter into the box and hopes that doesn't happen.

To him, it is a reoccurrence of what had happened in 2012. During that flooding which was first he had seen, he was forced to move his belongings out of the apartment having learnt on the news of the possible carnage the flooding would cause. He came back to the house only after water levels had receded and had to repaint the room and repaired the doors and windows that had rusted as a result of being soaked in water for a long time.

Kabawa, a community in the traditional areas of Lokoja, the state capital is seeing a repeat of what happened in 2012. The roads are flooded, leaving motorists to find ways to navigate the town through the Unguwan Kura bypass. The saturated road is seeking swift government intervention. The residents are worried that the rise in vehicular movement in the area has worsened the situation of the road and put their kids and young ones in danger of possible vehicular accidents because the road is narrow and would not contain the number of people plying it.

The youths of Kabawa have taken it upon themselves to guide motorists through the better parts of the roads which has been washed off by water. While some of the youths see their services as humanitarian, others have taken commercial values out it, making motorists to part with money to be able to pass through the road.
The farthest part of cantonment is also not spared; there too, is like the flood of 2012. 2020 seem however worse as the water level went farther than expected. The affected residents are also counting their losses with some of them seeking government intervention. They want government to create alternative route into and out of town and intervene on the Federal Government to conclude the embankment project around the banks of River Niger.

Alhaji Muhammed Sani told our reporter that it would have been impossible for the flood to enter Cantonment if the embankment had been completed as the area was a bit far from the river. He expressed hope that the 2020 flood had taught government that worse could happen. For me, I thank God it has not gone beyond this if not, many parts of Cantonment would have been affected. But that would have been considerably curtailed if there was a concrete measure in form of the embankment put in place as was the intention of government before it was abandoned.

The situation is, admittedly more pathetic in some areas. In Ibaji, Abel Omachoko is seated in his parlour in the pool of water waiting for his launch to be served. He is on a boat while inside. One of his daughters is in the open space kitchen while the other was pounding yam while his wife and eldest son were fishing. The setting is the same. The open air parts of the house synonymous with Nigerian village setting is an interesting sight, though pitiable. To him and his family, Ibaji is their land and they were going nowhere, and that when the water is done it would dry up by itself.

The septuagenarian does not care about anything as their important were in safety in a makeshift mud house not far from their home. He is not afraid as that of 2012 could not do anything to him and so, he was sure of surviving even that of 2020.

Though he had lost his rice farm to the flood, he hoped that government would put measures in place where future occurrence of the flooding would not have such devastating impact on ordinary citizens of the country. He said he understood that the situation was not peculiar to Kogi State as it has affected other parts of the country East, South, North and West.

Meanwhile the Kogi State Government has expressed its readiness to take measures that would help cushion the impact of the situation. It called on the citizens to remain calm and move to high grounds as their lives were more important than any material thing. It is for this reason that Governor Yahaya Bello has built a temporary camp for them along Kotonkarfe to house them until the situation abates.

The Deputy Governor, Chief Edward Onoja, who bemoaned the situation, said Governor Bello was doing all within his power to see that relevant authorities take measures to ameliorate the diffuclties being faced by victims of the flood.

Lawmakers in the state have taken it upon themselves to provide some palliatives for victims of the flooding across the state. Barrister Shaba Ibrahim of Lokoja/Kogi Federal Constituency; Hon David Zachariah of Idah Federal Constituency; Hon Abubakar Tanko Okofi of Kogi State Constituency; Hon Idris Ndako of Lokoja II State Constituency; Hon Isah Umar of Lokoja I State Constituency; among others, all assessed the situation and impact of the flood and called on the Federal and State Government to do needful by providing succor for their constituents.

Hon Zacharias has called on the federal government to expedite action on providing relief materials for his constituents who have been displaced by floods in different communities of Ibaji, Idah and Igalamela local governments of Kogi State. The lawmakers call became imperatives following the increase in the number of displaced persons as several communities have already been submerged, with properties including farm produce washed away. He noted that the people of Ibaji in his constituency are among the worst hit, and in serious need of humanitarian intervention ranging from food, beddings, shelter and medical items to enable them survive.

More worrisome, according to the lawmaker, is the fact that some of the educational institutions which served as IDP camps previously have now been affected by floods leaving residents stranded. He said still and motion pictures emanating from the affected communities are sympathetic.

Zacharias wants the ministry of Humanitarian, Disaster Management and Social Development to mobilize its personal and resources to see that the total welfare of the people receive adequate and urgent attention which he said is already deteriorating. In a letter to the Speaker of the House of Representatives, Femi Gbajabiamila, Zachariah hinted that hunger, outbreak of diseases and other terrible humanitarian crises are eminent if nothing serious and urgently is done to address the plight of the people. The lawmaker equally called on the Kogi state government, non-governmental organizations and other spirited individuals to urgently come to the aid of the people as their situation deteriorates daily.

Our reporter gathered that the high court in Kotonkarfe was among the first public institutions to suffer casualty of the flood. Other areas surrounding the building was also submerged while the occupant sought alternative places to stay temporary. But the Nigeria Hydrological Services Agency (NIHSA) warned in July that the country still has many weeks of rainfall in the course of the year and more floods are still expected in the months of September and October. "Only that some people, out of share ignorance or 'faith' refused to take action by salvaging their goods and those of their loved ones on time," said meteorologist, David Iselewa.

The Director General of the agency, Mr Clement Nze, gave the warning at a press briefing in Abuja where he said the current flood Ievel sighted in Niamey, Niger Republic, poses a dangerous threat to Nigeria. He had explained that any release of excess water from the dams in countries upstream rivers Niger and Benue this year will have more negative impact on Nigeria which is located downstream of countries in the Niger Basin. According to him, the highly vulnerable states are Kebbi, Niger, Kwara, Kogi, Anambra, Edo, Delta, Rivers and Bayelsa.

Mr Nze noted that the flood that ravaged Kebbi State in that month left so much to be told, therefore the current flooding situation calls for vigilance on the part of all the stakeholders. He advised state, local governments, multi-national companies and public-spirited individuals to put all hands on the deck to save the country from the consequences of a twin pandemic (COVID-19 and flood) in the year 2020. The rains are finally here, the volume of river flows on our river surge. River channels could no longer accommodate significant runoff as floodplains, which traditionally serve the alluvial plains and are rich in agricultural productivity, lost its retention capacity to give way to flooding of adjacent lands. Lives are being lost, property destroyed and humans are scampering for safety. Farmlands and crop yields are being lost to furry of floodwaters, livestock and ecosystem species are diminishing while hope for livelihood hang in balance due to monumental economic losses.

"As a matter of fact, all the states of the federation have suffered several degrees of flooding since June 2020. The danger is not yet over. Information received from the regional Niger Basin Authority (NBA) by NIHSA has it that as at 7.30am today 10th September 2020, the River Niger flood level in Niamey, Niger Republic, attained an unprecedented level of 7.02m (702cm). This is a far cry from the value of 6.60m which I reported in my last press briefing of 25th August, 2020. Noting that the Red Alert Warning Zone in Niamey is 6.20m and above, the current flood level sighted in Niamey poses a dangerous threat to the country, Nigeria, which is at the lower portion of Niger Basin within this month of September and October. Based on the report of the expected flood coming down from Niamey and the projected contributions by the inland rivers, both Kainji and Jebbo Dams built on River Niger have continued to spill water downstream.
The Shiroro Dam on River Koduno, with reservoir level at 381.48m as at 9.00am today, has been maintaining a regulated spilling into the River Niger. The effect of all these is that the communities in the states adjoining River Niger will continue to be highly inundated by river flooding as is being witnessed in the recent time.
The Agency, in addition to monitoring the flow on the River Niger System, is also keeping close tab on the developments on River Benue sub-basin and has maintained close contact with the Cameroonian authorities with regards to flood scenarios in the upper catchment of the sub-basin. Recent information received by the Agency from the Cameroon indicated that the Lagdo Dam is still impounding water.
Notwithstanding the early warning given by the Agency in its 2020 AFO and various media publications, urban and flash floods have continued to wreck havoc in many states of the federation, including the FCT. As at date, no less than 172 LGA in all states are counting their losses due to flood incidents. The non-existence of any dam structure within the Nigerian portion of River Benue makes Nigeria vulnerable to excessive flooding in the event of sudden or unannounced release of water from the Lagdo Dam.

He then called for the clearing of blocked drainages and gutters, dredging of river channels and structures within the waterways and floodplains and flood paths pulled down.

Reports said heavy rains on 2 August in an IDP camp in Bama LGA partially damaged or destroyed at least 475 shelters, affecting some 2,481 IDPs. The rains, which lasted four hours the day before, left areas of the camp submerged in water. Food stocks and non-food items such as mats, childrens learning materials and clothing were also damaged or destroyed. Humanitarian partners conducted a rapid assessment on 3 August, as well as relocated 96 shelters to dry land and deployed 20 trucks of sand to reinforce shelters and fill sandbags to hold back the flood waters.

Thousands and homes and wide areas of crops have been destroyed in recent flooding in the states of Jigawa, Kano, Kebbi and Sokoto, northern Nigeria. As many as 30 people are thought to have died.

Our reporter further gathered that in flooding was also reported in Jigawa State where over 50, 000 homes were reportedly damaged or destroyed with 17 out of the 27 local government areas of the state affected. Wide areas of farmland were said to under water, damaging or destroying crops.

Jigawa State Emergency and Management Agency (SEMA) was reported to have said in September that as many as 20 people have died in the flooding. Many of those fatalities were a result of building collapse.
News Agency of Nigeria (NAN) reported that scores of people have lost their lives after heavy rainfall and flooding in Kano state, adding that the Kano State Emergency Management Agency (SEMA) has confirmed the incident where thousands of houses were also destroyed. The worst affected areas, it noted, was Danbatta where around 5,000 houses were destroyed and 2 people died. Around 200 houses were destroyed in Rogo, where 2 other fatalities were reported.

The stories of Kebbi State, Sokoto and other northern states bares semblance to how the disaster was affecting several farmlands, destroying crops and homes and costing human lives.
About Post Author