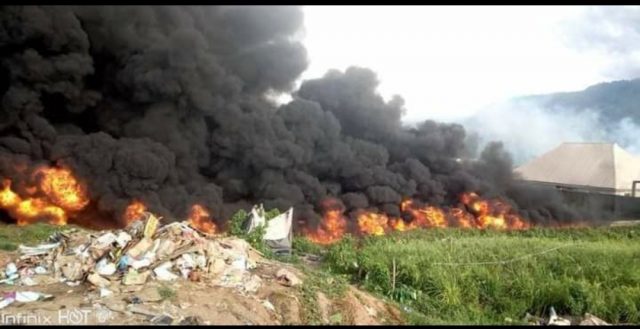 Mr. Hassan OLorunmolu is helpless. His eyes are drenched in his tears and he seems despondent, downhearted and dejected. He is just returning from the inner outskirts of Lokoja on hearing of the accident that took place around in Felele where he resides. He had just found out that his wife and child had died. He is inconsolable.
Charred bodies of family of five and over 30 others are being ferried from the scene of accident to where their loved ones have been called to identify their loved ones caught in the incident. It is a horrible scene. Some bystanders cannot afford the sight, others, with hands to the air, are looking forlorn and seem to wonder why such an unjustified human carnage could take place. Bodies of children of various age grades, youth and women line the stage at the Lokoja Local Government Headquarters. A sea of tears and grimace and wincing with hands to the air by all manner of persons form the pitiable scene. The howl of crying could be heard even from afar.
Back at the scene of the accident, people discuss in groups. Eye witnesses and others who had just arrived and those who had heard the bang of the explosion all converge; each narrating his views. They are all united in their disappointment, anger, empathy, confusion and various emotions that summarise the incident. No one could their feelings in a single word. This is one accident too many. Beyond the entire Lokoja, not only Kogi state, but the heart of any man with conscience is vexed. This should not happen.
People going out in the morning to seek for their legitimate means should not end up roasted like common animals. Some animals even get more honourable death. Children should not also get baked while out prepared to go get themselves ready for future challenges. They were students going to their primary and secondary schools. They should not die in such dastardly manner.
Then the pitiful and heart-wrenching story of Ifeoluwa Matthew was told by Samuel Oluyomi. Ifeoluwa was marking her three years of birth. She woke up that morning with excitement. Her parents had wished her a happy birthday and the promise of that day begun for her. This reporter can imagine the expectation in the little girls mind the gifts; the happy cheers from friends and relations; the plays; the possible cutting of her birthday cake and other things that would have made her day worth the while. She could not achieve all of these because of the carelessness of one man behind the wheels of a Gas carrying Tanker, which rammed into innocent bystanders and killing over thirty persons including an entire family.
Sharif Rabiu is from Edo State an Auchi man. His friends, Jessica and Olu had planned to complete their registrations that morning in the Kogi State Polytechnic, Lokoja which is just resuming from the Covid19 closure of the institution. He is helpless and cannot say much. He just wonders when the repeated reoccurrence of such mishap would stop. He says he has bid his parents farewell in the name of coming to Lokoja, the Kogi state capital to acquire his higher education. He did not plan to die and is sure neither were his friends and others who he did not have close relationships with.
He says the spot where the accident occurred has become notorious for such mishaps and wants something to be done on time to ensure a halt on the happening. He wants some form of measures to be taken in form of physical steps on the road to ensure drivers of such heavy vehicles know they were coming to a slope and apply caution otherwise, the occurring nature of the accidents would not end. He wants some bumps and other necessary mechanisms to be put in place to bring the situation under control.
Though road safety officials and the police claim the accident claimed 21 lives, many at the scene conformed that about forty persons died. Andrew Binoran claimed that men of the Federal Road Safety Commission and the Police could not come close to the scene while the inferno was raging and cars and tricycles were being burnt with human beings in them, and that only local residents had the endurance to put out the fire. Many of them (the road safety officials) that came around earlier, ran away upon sighting the level of fire in that incident. To make matters worse, the fire service was responding to our calls. In fact, we did not know who to call to come and help us put it out.
Our reporter can see now that Mr Binoran is fighting the tears dropping from his eyes. He just cannot continue even though he wants to tell of the things he saw in the cause of the accident. He wipes away his tears and says, with watery mucus from his nostrils; It was sad seeing your fellow man burning to death without being able to help them. No one deserves to die that way. No one! he says as he wipes his face.
On the other side of where the accident began and caused more damages, human remains lie there unburned. The remains are half covered with leaves as residents and sympathizers surround it. It is a female in her youth. She is obviously dressed for the day, ready to take up challenges of meeting her needs. Her struggles with life had ended in such tragic manner. Some able bodied men are struggling with her lifeless body. They want to means to move it without decapitating it further. Human remains are respected in this part of the world and loved ones love to bury their dead.
As they struggle, some witnesses spot various gestures indicative of sympathy and mourning. Hauwa Sani is among the first persons to see the accident happen. She is still in shock and can hardly contain herself. I had to run for my life immediately I saw the speed with which the Tanker was coming down from the hill there (she points in the direction of NNPC Mega Station). I have seen a similar thing happen in 2018 right in this spot and I know the extent it could get. That was why I ran as fast and to as far as my legs could take me.
While people were shouting from outside when I came out several minutes later, I knew something deadly had taken place. The speed of that Tanker was something else. It is a pity that some small children were caught up in the entire incident.
Just behind her, tensions are rising as the youths in the area are getting agitated. They hurl several verbal invectives on their leaders and want something urgently done or they would take laws in their own hands. Many of those in this category strike red eyes like people just done with smoking or taking hard substances.
Mr. Matthew Ayo wants government to do something quickly to ensure the matter was brought under control, by ensuring they checkmate the mental and physical states of tanker drivers. To him, some of the drivers are always under the influence of drugs, while some of them spend sleepless nights which make them to sometime dose off behind the wheels. These people need to be advised to use their natural abilities in doing their work if not they will continue to take the lives of people for granted. It is wrong.
To him, beyond these, they should be enlightened and giving formal education before they qualify to drive the Tankers because ignorance is part of why they continue to live in the condition thereby endangering peoples lives.
Our reporter saw human remains and school bags, corroborating the submissions of those present at the time of the accident, that some of the victims were children of primary, secondary school ages, this is in addition to some students of the State Polytechnic who also lost their lives.
Speaking amidst the rowdy scene, one of the witnesses, Rebecca John said the incident was one too many, as it had become a reoccurring decimal in that area and called on government to intervene fast. She said the drive of the tanker had obviously lost control of the vehicle shortly before the incident and that he was only looking for ways to halt it which caused him ram into parked vehicles and some passersby as well as some people waiting to hail down their means of transportation into major parts of Lokoja. "The accident claimed the lives of many, including civil servants, other category of workers and business people, students in primary, secondary and tertiary institutions, especially students of Kogi State Polytechnic who are just resuming from the Coronavirus pandemic. The government needs to find a way to address this reoccurrence because we can't fold our arms and watch citizens of the state being killed like goats by these truck drivers conveying crude oil to all parts of the state."
On his part, Mr. James Omonile who stays in the area, expressed shock, saying even though accidents involving long vehicles conveying goods, especially petroleum products are used to having accidents in the area, that of Wednesday took the cake as many residents and students were affected.
The Governor of Kogi State, Alhaji Yahaya Bello who was among the first government respondents was represented by Deputy Governor, Chief Edward Onoja alongside Hajiya Rashida Bello.
Chief Onoja expressed shock and consoled families of the victims of the explosion, describing the event as "terribly unfortunate." He reiterated the plan of the State Government in getting approval for some certain work to be done on the Federal Infrastructure in the State, as the Governor is meeting with the Minister for Works in order to prevent future reoccurrence. He also expressed sadness over the number of people whose lives were cut-short by the event, and assured all who were present of the State Government's resolve to render support to all families of the deceased, as well as those who were currently receiving treatment in the hospital.
The Kogi State Federal Road Safety Corps (FRSC) Sector Commander, Fika confirmed that Twenty-Three (23) casualties were recorded, while a survivor is currently receiving treatment in the hospital. Also present at the inspection were the Secretary to the State Government, Dr. Mrs Folashade Ayoade Arike, The State Commissioner for Police, Ede Ayuba, The State Security Adviser, Navy Commander Jerry Omodara Rtd; the Rector, Kogi State Polytechnic, Dr. Salisu Ogbo and other Government functionaries.
The state government thereafter declared two days state mourning in honour of those who lost their lives while the loved ones and relations of the deceased continue to grieve over their losses.
About Post Author