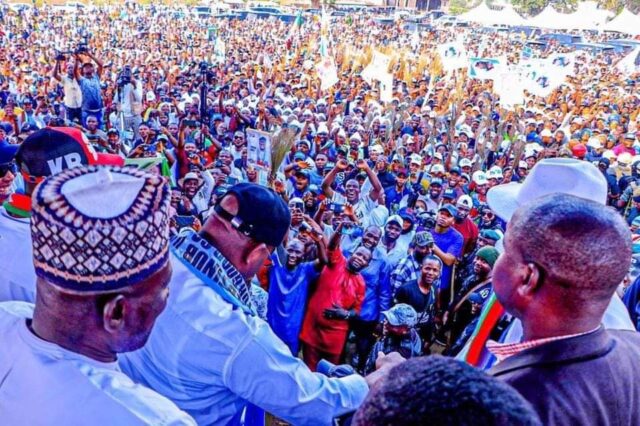 The All Progressive Congress (APC) in Kogi Central has expressed their unalloyed loyalty and support for our Candidates beginning with His Excellency, Bola Ahmed Tinubu for President, Engr. Dr. Abubakar Ohere, for Senate, our there House of Representative candidates as well as our 6 House of Assembly candidates and declared 100 percent victory ahead of 2023 general election.
The Campaign train of the Kogi State All Progressive Congress, Presidential, National and State Assemblies was on Tuesday received by a mammoth jubilant crowd at Agasa-Uruvochinomi Junction, Okene the Country home of the state Governor, His Excellency Alhaji Yahaya Bello.
Party Stakeholders were led by Governor Yahaya Bello in a continued effort to ganner support and votes for the party's candidates at presidential polls for Senator Bola Ahmed Tinubu and his Vice Presidential Candidate, Sen. Kashim Shetima as well as other candidates of the party in the state.
Engr. Ohere was accorded a rousing welcome by the people of Kogi Central senatorial district, during the flag-off of the Central Presidential, National and State Assembly campaign rally. He thanked the people of the Central for their overwhelming turn out, support and cooperation all these years.
Engr. Ohere in reiteration of his Boss's speech appealed to the party supporters to vote for APC from top to bottom in the forthcoming general elections, noting that it will add more consolidation to our existing human capital and infrastructural development.
He assured the APC presidential candidate that the Kogi people's votes is for APC, saying that the people have seen dividends of democracy provided by the APC administration under the leadership of His Excellency, Governor Yahaya Bello.
The APC State Chairman Hon. Abdullahi Bello and D.G Campaign council Chief Pharmacist Abdulkareem Asuku, in separate remarks urged the people of the Central to vote massively for APC across board for continued peace, unity, progress and development of the country.
Governor Bello in his remark told thee people of the senatorial zone that the developments they have seen now are nothing compare to the ones to come. He said, " Engr. Ohere had the character, capacity and competence to provide leadership that everyone would be proud of in the National Assembly. The success of the rally is a clear statement and demonstration of love for him and also a show of the preference of the Kogi people for the APC candidates." The support from Central and by extension the entire Kogi is a vote of confidence for Engr. Ohere and all our candidates," he said.
The Governor presented the APC flag to Engr. Abubakar Ohere as the candidate of the party for the Senatorial election, and all other party Candidates were also presented the Apc flag by His Excellency, Gov. Yahaya Bello.
Signed:
OHERE MEDIA TEAM
About Post Author