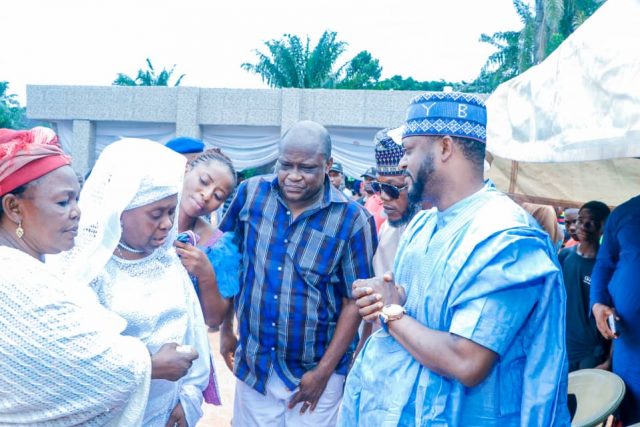 The Deputy Governor of Kogi State, Chief Edward Onoja, was yesterday, 25th of June 2020 received at his home town in Olamaboro Local Government Area for the burial ceremony of Late Hon. David Audu Adegbe, before moving to Ankpa local government to condole with the former Administrator of the local government, Hon. Ayuba Nana and his family, and to participate in the 8-Day Fidau prayer of his late Father.
In both events, Chief Edward Onoja emphasized on the need to live an exemplary lifestyle worthy of emulation whilst alive. He described the late David Audu Adegbe as someone whose loss will be felt for many years to come in the community. He further stated that life was fleeting, and encouraged all members of his family and well-wishers to learn from the deceased in living a life of purpose, impact and forgiveness.
He prayed that God would assume the role of husband to his wife left behind, father to his children and hoped that the event would create an opportunity for his children to bond and unite in peace and love.
Audu was a one time Executive Chairman of Olamaboro LGA who died at the age of 70 years.
In Ankpa, the Deputy Governor expressed sadness at the death of Hon. Ayuba Nana's Father, but professed his comfort at the unshakeable legacy which he left behind.
He charged the youths to pay close attention to the lives of those who have lived well in order to learn how their contributory lives can help build a nation which they would be proud to leave for their children as well.
At his home town in Ogugu, he also paid condolence visit to the family of Mr. Paul Ajaba who lost his wife, mrs Rebecca Paul.
The Deputy Governor also held series of unity meetings with party stakeholders, inspected ongoing projects and engaged with youths of the area on the need to unite for community development.
About Post Author