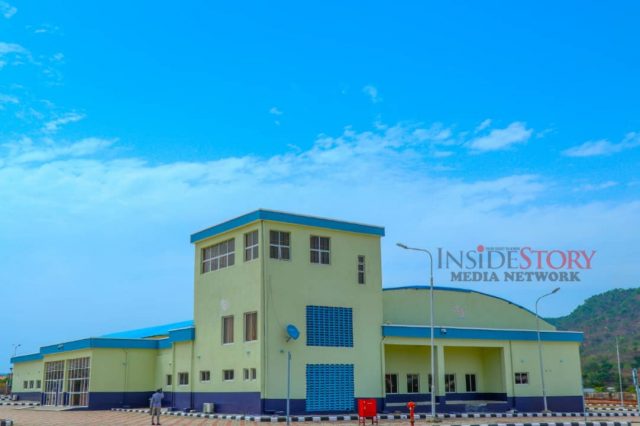 Kogi State Government has announced that the Mega Terminal would start it's operations in few days noting that the activities of the terminal would revolutionize the transportation system of the state while commuter's safety would be further guaranteed.
The Commissioner for information and Communication strategy, Mr. Kingsley Fanwo made this known on Tuesday during a media tour of the facility to showcase its readiness to commence operations.
The Information Commissioner, who was joined by his counterparts from the Ministries of Transport, Commerce and Industry as well as the State Security Adviser, Com. Jerry Omodara noted that it became imperative for the state government to look into the safety of its citizens, particularly on the Felele Federal Highway which had recorded tragic incidence in recent times.
He opined that the terminal would avail the State the opportunity to
While he acknowledged the effort of the previous government in putting up the terminal, he clarified that because the New Direction Government believed in continuity of well meaning projects, the terminal was completed.
The State's Commissioner for Transportation, Adejoh Okwoli noted that every modality required for the smooth take off of the terminal was already in place noting that the government had met with relevant stakeholders on the need to embrace the change in operation which many have responded positively and also promised to cooperate with the government.
He affirmed that the migration of major motor park on Felele highway to the Mega Terminal was the first phase of the implementation as other notable garages in town would subsequently follow suit adding that government was looking at equipping the state's transport company with more vehicles to enhance productivity.
Mr. Adejoh said that aside from creating easy accessible entrance road to allow vehicles navigate easily through the gate, they have also upgraded the transformer from an 11KVA to 33KVA transformer which would guarantee steady power while a standby 500kVA generator was also made available.
In his own briefing, the State Security Adviser, Com. Jerry Omodara expressed the readiness for a smooth operation to commence at the terminal asserting that commuters would be guaranteed their personal security as well as that of their properties.
He noted that respective security agencies had visited the terminal and drawn out strategies to keep people and their properties safe, noting that aside from a police, DSS, Road Safety post within and around the premises, there was also a fire service center to respond to any emergency.
The Security Adviser similarly revealed that there were surveillance camera installed within the terminal which was monitored from a well equipped control room to further enhance safety
About Post Author